Why I'm in Love with the Rare and Lovely Larimar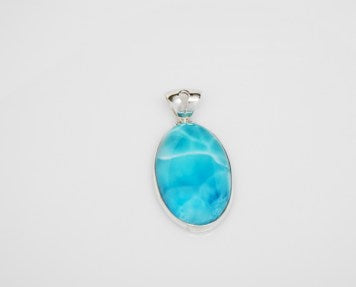 By Carleton Varney- Special to the Palm Beach Daily News
If I were to select my favorite stone for jewelry and for color, it would definitely be larimar.
Do you know it? It's a gemstone of the blue variety, made of the mineral pectolite and mined only in the Dominican Republic. It's found in the mountain ranges in Barahona, the southwest region of the country, and its distinctive coloration comes from the volcanic activity of the area.
Larimar is a relatively new find among gemstones, having been discovered in 1974 by a couple of explorers. The stone's name is derived from Larissa, the name of one of the discoverer's daughters, and "mar," the Spanish word for sea. Larimar reminds me of the blue waters of the Caribbean, its opaque form featuring streaks of white veining. Larimar has a Mohs scale of hardness of 4.5, so it can be worn and treated like turquoise.
Those who are lovers of the ocean will love the stone — and its color, a shimmering hue that recalls the sea and the sky, with tones ranging from pale aqua to deep blue. There are larimar-color crystalline tiles on the market, which would be perfect for shower walls or for the floor of a bathroom or dressing area. I might choose larimar as a paint color for ceilings or for bedroom walls. Who wouldn't enjoy a restful night in a bedroom colored larimar? I understand the paint company Fine Paints of Europe will soon be issuing a blue color that is equal to the color of the stone.
If you choose larimar blue for your drawing room, paint all woodwork bright white and lay a cotton-jute rug wall-to-wall in the island style — and that includes Palm Beach. White sliding louver shutters would be my choice for your window treatment and, of course, what would a larimar-painted drawing room be without a club chair or chaise longue? Upholster it in a tropical print — maybe a pattern of pink and peach hibiscus flowers entwined with green leaves on a white background.
For your bed, choose a headboard in soft shell pink and have a bed skirt sewn from the hibiscus print you selected for the chair or chaise. If you select white night tables, top them with pink-glass lamps outfitted with white pleated silk shades. If you are a true pink person, line the shades with a pink sheer fabric so your larimar room will be glowing at bedtime, too.
For decorative accessories, a large tropical floral or landscape painting could dress the wall above the bed. Be certain to install a picture light to showcase the art in the old-fashioned way. This will provide just a soft touch of light — always a good idea — as opposed to the standard way of embedding a light into the ceiling to beam down onto the artwork. To further turn your larimar bedroom into a perfect dreamland, choose your duvet or bedspread and sheets and pillow shams carefully, maybe in a shell pink or a larimar-blue trellis design.
I know that larimar may be unfamiliar to you, but it's full of possibilities I suggest you purchase a bracelet or ring of the stone for future inspiration.
Leave a Reply