West Palm Beach Gallery Owner Shares Her Love of Art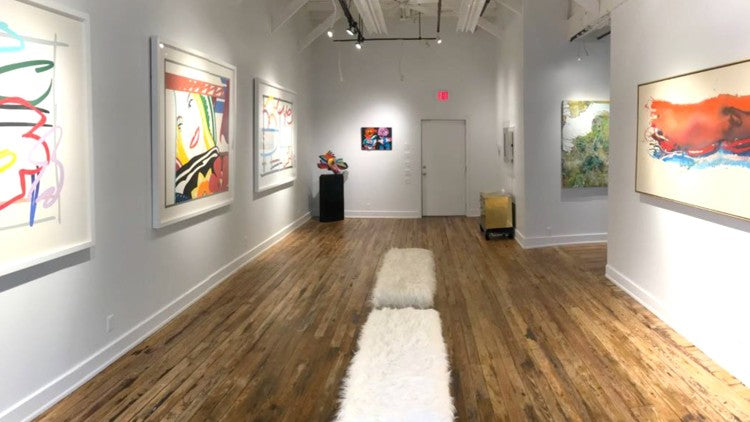 By Carleton Varney Special to the Palm Beach Daily News
Art Basel is always a hit in Miami and rightly so as the annual show brings worldwide attention not only to artists but also to Miami and its cultural endeavors.
But as a focus of the art world, Palm Beach is not left behind. Opening Thursday and running through Jan. 15 is the Palm Beach Modern + Contemporary art fair, which is held in a tent on Okeechobee Boulevard and South Dixie Highway in downtown West Palm Beach. It will be followed Jan. 17-20 by Art Palm Beach at the Palm Beach County Convention Center.
Both exhibits and sales are must-sees, I would think, for any Palm Beacher with an interest in art.
I was chatting recently about the local art scene with Wendy Fritz, who has been part of the Palm Beach arts community for some years now. She comes from a family that certainly knows art. Her grandmother, the actress Ann Rork Light, was once married to J. Paul Getty, and her mother, Donna Long — the half-sister of Gordon and Paul Getty — dwells here now and is an accomplished artist in her own right.
So is it any surprise that Fritz would open her own gallery, where she serves as art director? Fritz Gallery is in Suite 203 at 1608 S. Dixie Highway in West Palm Beach, directly above the Leslie Hindman auction house and the studio of Steve Johnson, one of my favorite picture framers.
Wendy attended high school in South Florida and earned her bachelor's degree in art history at Southern Methodist University in Dallas. She has worked as an art consultant, advising buyers about artists and art values, for a number of years.
"Both my grandmother and mother shared their love of art with me by taking me to museums and to gallery events," she says. "I remember going to gallery openings on Worth Avenue in the 1970s and '80s and meeting many of the artists. My mother and grandmother were close friends with J. Patrick Lannan, who had an extensive collection of American and European modern and contemporary art. He had paintings by artists such as Clyfford Still, [Frank] Stella and [Mark] Rothko in his Palm Beach home. The exposure to amazing art gave me the 'art bug' and influenced me to major in art history."
In her gallery, you might find walls hung with the works by titans such as Robert Rauschenberg, Paul Jenkins, Willem De Kooning and Louise Nevelson, as well as pieces from local artists, including Ken Walker and Daniel Neumann.
Fritz's gallery will close its current show, "Liminal Encounters" featuring emerging artists with ties to Dreyfoos School of the Arts, on Jan. 18. On Jan. 20 will open an exhibit titled "Post-War: Surreal, Modern and Contemporary Art," which Wendy has curated. It will run through Feb. 15.
As we enter the New Year, I've noted in my work field of design and decorating that clients are building up their art inventory in lieu of buying stocks and bonds. Maybe there is more fun in investing in the art market. Walls hung with Dalis are probably more beautiful and interesting to look at then walls papered with stock certificates, I suspect. But to each their own, I say.
I always have believed in buying pieces of art that please your own eye and indicate your likes and personality. My friend Sharon Queeney, a longtime Palm Beach real estate agent, covers the walls of her lakeside home with paintings of boats — and her family room and kitchen walls with images of roosters. So charming!
I always advise clients to buy art that they like. But when it comes to building a collection, it never hurts to have an experienced fine art consultant at your side.
Leave a Reply