Veggies, Fruits Produce Color Inspiration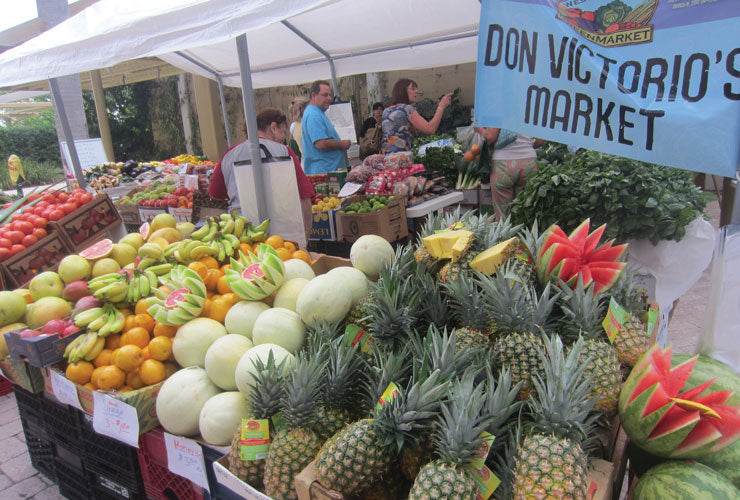 By Carleton Varney- Special To The Palm Beach Daily News
Don Victorio's market is all about color and taste — and everyone knows how much I like both of those things. This must-be-visited fruit and vegetable market, with its old-fashioned style, is a favorite of mine.
At 7504 S. Dixie Highway in West Palm Beach, the produce at Don Victorio's offer a riot of color that visitors can't help notice, such as splashes of tangerine orange, dark-red beet and banana yellow, just to name a few.
On my last visit, to purchase bright-flavored mangoes, I ran into the charming owner, Victor Perez, and talked with him about cherries. I was told they were not the best this year.
Sarah Perez, Victor's partner, shares the tasks of running the market, which is an inspiration to those who love gardens and the outdoors.
Order a carrot-and-ginger drink at the juice bar in the market and leave feeling healthy. Our office manager at our West Palm Beach warehouse loves her beet juice as well as her yoga classes. Everyone thinks healthy these days .
Carrots and beets are fine, but don't forget summer's healthful green veggies, from spinach to broccoli to string beans, not to mention fresh lettuce-and-tomato salads.
After your visit, stop by the SouthEnd Kitchen close by at 6108 S. Dixie Highway, and Greek proprietor Frank Merissiotis will delight you with what I think might be the best Greek salad ever made, and certainly one of the most colorful.
You'll find in that salad a riot of light greens and reds, plus black from the olives — a great color scheme for a room in your South Florida home, now that I think of it. Paint your walls a soft lettuce green with trim the color of white onion skins. Then choose a fabric with a white background and a pattern that mixes tomato reds and oranges with lettuce green, perfect for your drapery and, maybe, the upholstery.
The best salads, I think, are the ones filled color. Think about orange and yellow nasturtium flowers, both edible and handsome. In decorating projects, I sometimes choose a fabric or wallpaper with a nasturtium design, which can bring instant happiness into a bedroom, kitchen or country-style powder room.
You can also think beyond the salad and borrow decorating ideas from the vivid colors of summer's vegetable gardens. Think of all the painters who have crafted canvases depicting edible wonders. Inspiration flourishes from seed to palate to interior design.
My advice to all my Palm Beach readers is to take a ride across the bridge to Don Victorio's for a banana-mango-pineapple smoothie at the juice bar. Walk around the stalls and enjoy the colors of peaches, plums, strawberries, mangoes, lettuce, tomatoes, bananas, tangerines, potatoes, red onions, and so many more. And then translate that visual experience into home decorating color inspiration.
Leave a Reply