Palm Beach Decorating: Get Tropical, Patriotic with Bamboo plus Red, White and Blue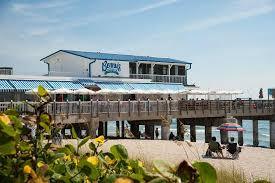 By Carleton Varney- Special to the Palm Beach Daily News
It's July Fourth and weather permitting, the beaches today will be filled with suntanned people while Benny's on the Beach in Lake Worth will be mixing its famous piña coladas and turning out the best-flavored French toast and pancakes in South Florida. When I say this about Benny's, I mean it, as I have tried them all and Benny's versions — served at the casual eatery on the Lake Worth Beach Pier — earn an A-plus.
For décor Benny deserves a mention, too, with lots of bamboo-covered posts and natural-finish seaside furnishings, all in keeping with the warm and welcoming style of the Bahamas.
I am all for incorporating bamboo poles, split in half, for crown moldings in a Florida home. Bamboo, too, can be used to create wall panels and chair-rail details. Steven Johnson, one of the best framers in West Palm Beach, can show you natural bamboo as well as wooden bamboo-style framing that will add a special detail to beach-theme art. Wooden bamboo can be painted any color, including those American flag colors of red, white and blue. Or try golden bamboo frames to accent your favorite Chinese panels.
If you love Americana to the core, here is a Palm Beach library decorating scheme that you might find very cool during these hot and humid days.
Begin by painting your walls a rich American flag blue. Paint the room's bamboo moldings white, and on your white doors, add white-and-blue-painted bamboo molding for a special detail. For the windows, choose drapery made from a cool, white linen and hang the panels from natural-bamboo poles.
Your wood floors can be stenciled with painted 18-inch-square blocks in red, white and blue. Or, perhaps, create a painted border with alternating 18-inch squares of the blue and white — and in the center of the design, lay an American flag-inspired rattan rug, where you'll place your furniture.
Cover — or slipcover — your main seating pieces in white linen. And for accents, what about covering throw cushions in red and white stripes? You'll also find on the decorating market a wide range of needlepoint American flag pillows to complement the other cushions.
For lamps, shop for clean-lined, modern-style bases of reflective silver mercury glass, which are so chic.
And what art will you hang on the wall? Why not compile a collection of American flag images — vintage and modern. When I am antiquing in West Palm Beach, I often seen flag prints, flag etchings and even vintage American flags with just 48 stars, made before we welcomed Hawaii and Alaska into the union. You can mix different kinds of picture frames to giving the walls a magical antique and modern mix. But be sure to include at least a few bamboo frames to tie help tie the design together.
Happy Independence Day. And do try to keep cool as we celebrate the country we all love.
Leave a Reply