Add Floridian Flair With Fruits, Flowers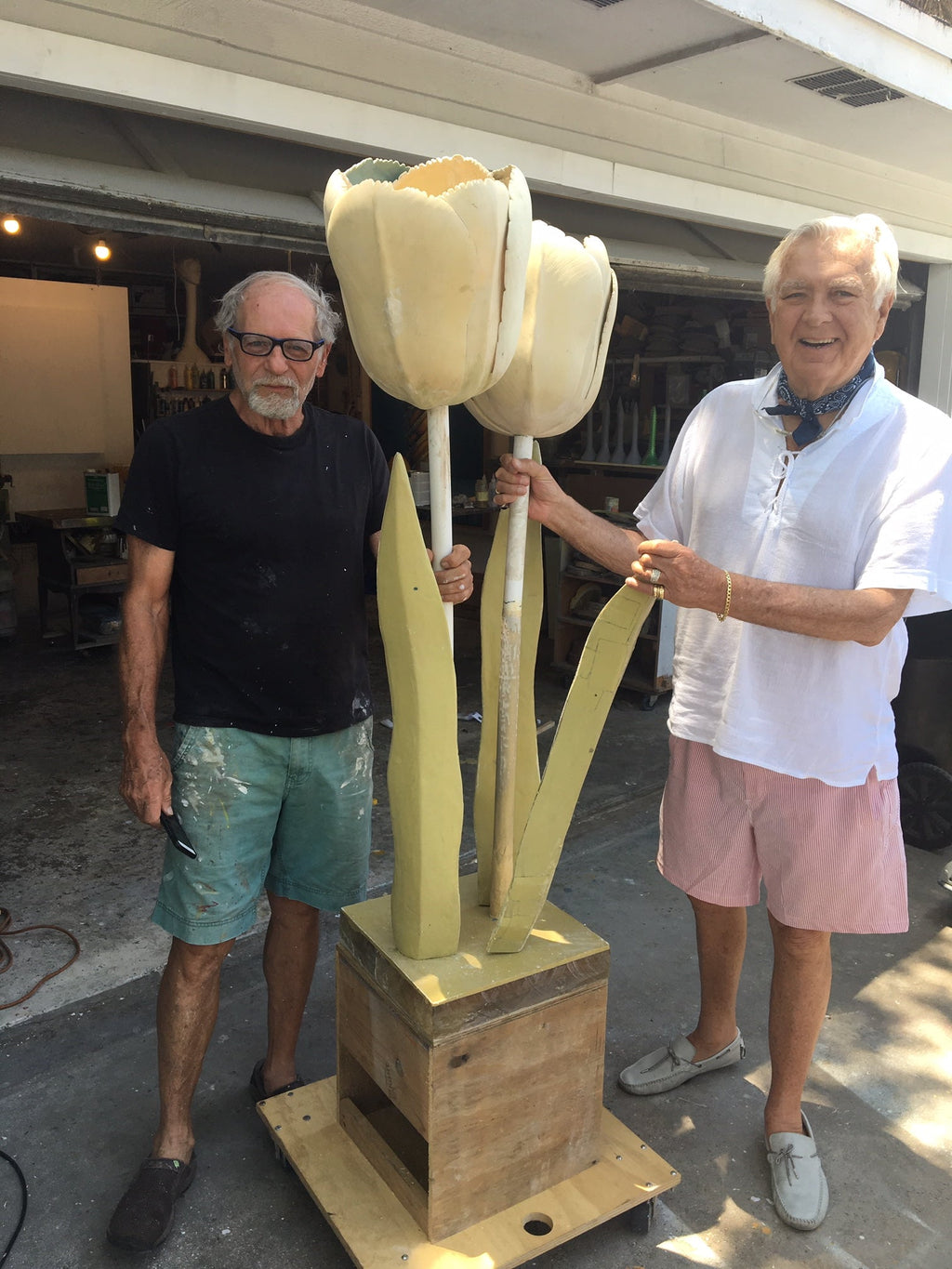 By Carleton Varney- Special to the Palm Beach Daily News
I always marvel when I encounter an artist who is adept at both painting and sculpting. And Dan Meyer of Lake Worth certainly falls into that category.
I once had the pleasure of using one of Dan works as a golf-course sculpture, of all things. Yes, his colorful groups of super-size golf tees never fail to wow the eye, as they do at the Greenbrier Resort in West Virginia.
He also created a beautiful — and oversized — cherry with a stem, perfect for displaying on the top of a coffee table. I have one such sculpture on my entry table, and visitors always admire it.
I stopped by Dan's studio last week to discover him at work on a hyper-realistic painting of lemons in a crystal vase. The painting was commissioned by a tourist visiting Palm Beach, and the piece will be headed to South Africa when it's completed.
Dan and his wife, Debra, live the Florida lifestyle to a "T" — and that "T" stands for talent. The couple enjoys entertaining al fresco in their garden and on their patio year-round. They've treated the outside of their home, decorating-wise, with the attention that some might reserve for an indoor room. Debra tells me she believes outside living should be as happy and colorful as inside living. And I certainly agree with her.
Whatever Dan paints or sculpts, nature and the fruits of Florida are his focus — lemons, limes, oranges, all things Floridian. Coming up soon, he says, is a series of flower sculptures, some that will reach as high as the sky.
He has a tulip sculpture in the works that measures some 5 or 6 feet, which I particularly liked. What room, exterior or interior, would not seem a little happier if decorated with a flower sculpture displayed in a prominent position?
Sure, there will always be a place for classical sculptures that depict, say, Roman gods. But Dan's sculptures of flowers, oranges and lemons seem perfect for those who want something fresh, modern and accessible. You can reach him at Daniel Meyer Fine Art by sending an email to danielmeyerartist@me.com.
His work reminds me that in today's art world, striking modern sculptures can become a center of attention. Just drive along South Dixie Highway in West Palm Beach and get a glimpse of the sculpture of the oversize typewriter eraser by Claes Oldenburg and Coosje van Bruggen, the pièce de résistance at the front of the Norton Museum of Art's new wing.
And even if you're not in the market for a new sculpture, you can still work some visual magic simply by using a bowl of bright lemons as a centerpiece for your table. And why not? Lemon is one of my most favorite colors for in any room of the house — happy, bright, and very much Palm Beach.
Leave a Reply