Try these cool summer decorating tips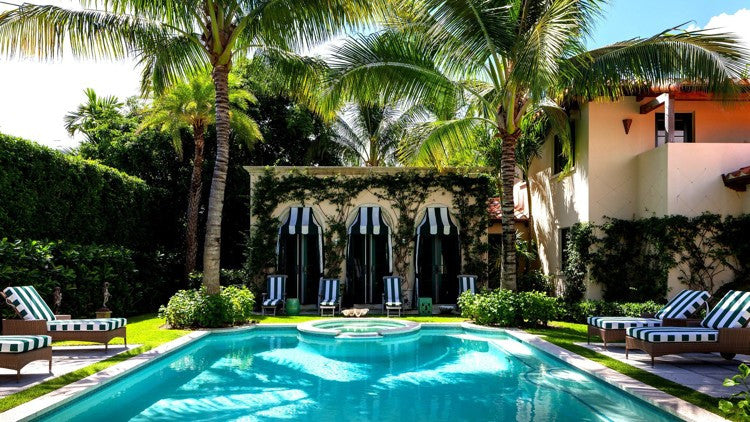 By Carleton Varney - Special to the Palm Beach Daily News
I guess you might say summertime in Palm Beach is the lazy time of year — at least it is when you compare it to the busy-busy days of the winter social calendar. You'll find that some our Worth Avenue boutique proprietors close up shop to head north for June, July, August, and September, joining their customers on a circuit that might include Harbor Springs, Mich.; Nantucket, Mass.; Maine's pastoral getaway destinations; or, of course, The Hamptons.
But for those who live in Palm Beach year-round — and there seem to be more and more each year — the summer might include daily ocean swims, lunch in less-crowded restaurants and a holiday barbeque at home.
And there are sure to be a few out-of-town guests. Isn't that always the case in Palm Beach?
So let's ready our terraces, beach houses and pool cabanas for the season just at hand. Here are a few decorating and stocking-up tips to make summertime a blast.
* Is it time to refresh your supply of big beach towels? Choose patterns and colors with a sense of fun and spirit. Two of my favorite sources for them are C. Orrico, 336 S. County Road, along with Norcross Patio, 5023 S. Dixie Highway in West Palm Beach. Towels with cabana-awning stripes, bright banana leaves and colorful summer fruits are always popular.
* New sets of soft cotton sheets and pillowcases in summer colors are an easy way to refresh a bedroom for guests. Try soft aqua blue sheets instead of white. Mint green and sherbet-hued sheets can be found at Pioneer Linens, 210 Clematis St. across the bridge, as well as fine linen stores on the Avenue.
* It may be warmer, but if your home catches ocean or lakeside breezes, you can still entertain outside on the loggia, terrace or patio during the summer months. Try Island Home, 334 Worth Ave., for tropical-theme items with a restrained, elegant look. Shell napkin rings and other seashore-theme table accessories can make your table so inviting, whether the event is a Memorial Day barbecue or a July 4th fireworks-watching party. Tired of shells? Look for napkins with palm trees or hibiscus flowers that say, "Let's have fun around the pool!"
* And speaking of pools, now is the time to take a look at your pool furniture and decide if it needs a coat or two of paint — or even replacement, if it got too much use during the winter season that just ended. Check to see if the chaise cushions need cleaning or should instead be tossed and replaced. Many a store has stocked up on garden furniture, including George's Paint and Hardware, 4616 S. Dixie Highway. I have even found some white John Kennedy-style rockers that I plan to purchase for the terrace of my home.
* Take stock of your outdoor barware and dinnerware, too. There are so many delightful versions available in heavy-duty acryllic and plastic today. They will stand up to wear and tear — and they'll do it with style.
I enjoy being in Palm Beach during the summer, running about with the convertible's top down, catching the breeze. Be warned: Sunscreen is a protective must for anyone who rides with the top down. When you pop into Green's Pharmacy at 151 N. County Road to purchase your sunscreen, you also can treat yourself to a refreshing ice tea or a cooling ice-cream soda! That's another perk for those of us lucky to enjoy Palm Beach, whatever the season may be.
Leave a Reply