From 'Hello, Dolly' to doll collections, these ladies deserve attention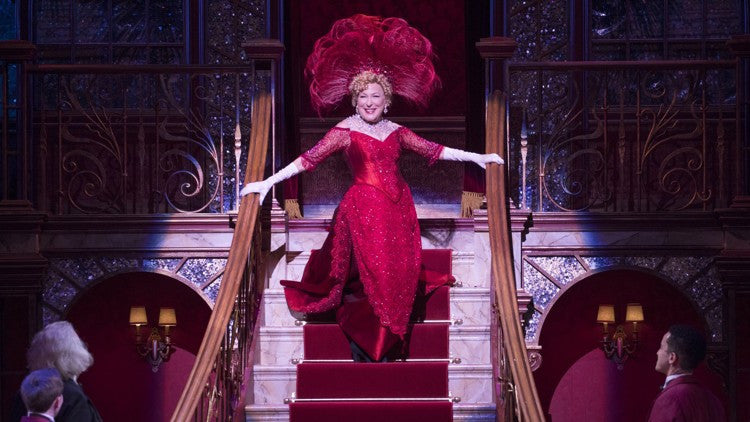 By Carleton Varney - Special to the Palm Beach Daily News
Broadway, these days, is rocking with Bette Midler fever. Even the flags on the street posts have been changed to banners promoting the recently openedHello, Dolly!, in which the Divine Miss M is a certified smash.
I am told the show has millions of dollars in advance sales, assuring the revival of the musical of a long run, though not always with Bette in the starring role. Donna Murphy is scheduled to perform the role on Tuesdays beginning June 14 and will have occasional weeklong runs. So book carefully if you are a Bette fan.
I have seen Hello, Dolly! with many stars performing the leading role, which was originally played on Broadway by the one and only Carol Channing. Other stars who have assayed Miss Levi include Ethel Merman, Mary Martin, Betty Grable, Ginger Rogers, Martha Raye, Dorothy Lamour and Pearl Bailey — and who knows how many other Dolly Levis have travelled the road?
My late client Merman took on the role at the tail end of the original run. She was persuaded to do so by David Merrick, the producer, to keep the show running so it would earn the accolade of being the longest-running show on Broadway (1964-1970) (which it was until 1972, when Fiddler on the Roof broke the record).
Grable also took on the role, persuaded by Merrick, who is said to have promised her the starring role in the movie version. Alas, that did not happen. The role went to the younger — and not so believable, given the role — Barbra Streisand. Had I been casting the film, Betty would have had her chance at a career revival.
All Dollys aren't created equal, I guess.
And neither are the dollies that are so popular with collectors these days. And that brings me, in a roundabout way, to the subject of this column.
I have had friends who collect every kind of doll, from antique stuffed-cloth versions to porcelain dolls of German origin — and of course, Miss Barbie in all her regalia has become a collectible for the ages.
Doll collectors are such a passionate bunch worldwide. I think it's because dolls are such a part of childhood for many collectors. Memory is a powerful thing, isn't it?
Collectors of dolls proudly showcase them, often under glass when the value of the dolls is up there. And "up there" can stretch into the thousands and then some.
One of my patriotic friends collects first lady dolls — Laura Bush, Hillary Clinton, Rosalynn Carter — and all have fairly good resemblances to their real-life counterparts. Movie star dolls are also quite popular. I've seen versions depicting Rita Hayworth and Marilyn Monroe in all their Hollywood glamour. Other collectors enjoy their Shirley Temple collections. Thousands of dolls were fashioned to capture the inimitable persona of the late child star.
I'm often asked: What's the best way to display a doll collection? I suggest devoting a room or a wall in your home to your collection, where a carpenter can build display cabinets for your dolls. I suggest a wall unit that is lighted and with adjustable glass shelves.
If you are not a doll collector but instead love clocks or sailboat models or some other fantastic items, follow the same suggestion to house your treasures. It will give your favorites a place of honor in an organized, attractive setting. A higgledy-piggledy look can be a detraction, no matter how beloved the collectibles.
Leave a Reply