Don't just make your bed, make it look beautiful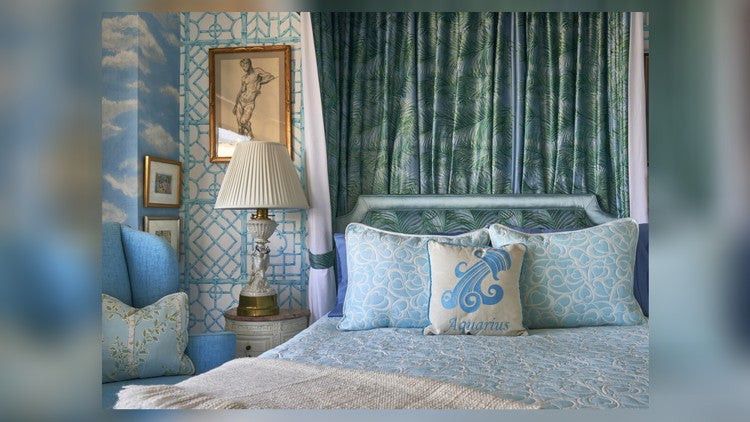 By Carleton Varney - Special to the Palm Beach Daily News
"Dressing the bed" should be the words of that start each day.
Let me explain: Some folks always refer to this morning task as "making the bed." Those are never my words, however. That's because I believe that dressing the bed requires just as much care as dressing the body.
Think for a moment of a stylishly dressed woman. Her lovely ensemble requires advance planning, as does her properly dressed bed. First she dons her undergarments, then the blouse, the skirt, the belt, the shoes, the jewelry, perhaps a sweater, and of course, a hair ornament.
In the same way, bed dressing actually starts with the bed skirt — but more about that in a moment. Instead, let's begin with the mattress cover. Think of this as the bed's undergarments, hidden to the eye but so important.
We continue the dressing process with the addition of sheets, perhaps a bottom sheet of navy blue and then a top sheet of white with a scallop-border detail. Then comes the next layer, maybe a cotton blanket with a trellis design — pale blue on white — placed appropriately before the tuck-in and turn-down-the-top-sheet process. We definitely want to show off that scallop border, just as a stylish women would want to show the ruffle on a blouse beneath a jacket.
Now, after the top sheet has been turned down, we'll need a comforter or a quilt set that has a special look all its own. Wouldn't a pattern of springtime blossoms be terrific? Let's say we've found one featuring blue hydrangeas with green leaves and a scattering of pink apple blossoms on a white background.
The quilt should come with a matching bed skirt, which we put in place before we slipped on the mattress cover.
As when dressing in a fashionable outfit, the layering continues, with the addition of the pillow covers, the shams, the accent pillows and the neck rolls.
Oh, what a joyous look you can create in your bedroom, dressing a bed that you will enjoy sinking into when the sun is setting and the moon is rising over the sea or the lake.
As you plan the decorative scheme for your bedroom, remember the bed is to the bedroom as the sofa is to the living room. It is the focal point and should be treated with respectful attention.
Leave a Reply