Trendy Classic Blue Is A Tried-And-True Design Staple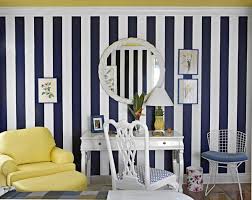 By Carleton Varney Special To The Palm Beach Daily News
The New Year always brings with it the announcement of Pantone's color of the year, the hue that the analysts at the famous color institute believe will be a leading trendsetter in the design world over the next 12 months.
And for 2020, that color is Classic Blue. So we are back to the basics, albeit those who read my column regularly know that I believe the basics are never out of style.
The primary colors — red, yellow and blue — make the world go round. But I particularly prefer two of them in combination: blue and yellow. In my view, the color of the year is always a secondary color, the one you get from mixing blue and yellow -- green.
But for the Palm Beach design market, let's accept Classic Blue, for this nautical color is a natural along the I-95 corridor, where sea and sky are never far away.
No color is better than Classic Blue for the yachting set. I love to see exterior of yachts and sailing vessels painted nautical blue — there's a reason, after all, this hue is often mistakenly called Navy, a much deeper tone.
I recall some years back visiting the British royal yacht Britannia, when it was docked in St. George's in Bermuda. How appropriate I thought the vessel's exterior was, even if the color was a shade or two darker than Classic Blue.
People often call the night sky black, but I've tend to see it as a deep, deep blue that so beautifully sets off our white-white moon. No wonder rooms painted in Classic Blue always need a similar white paint for the trim and ceiling. In the same vein, you'll often see striped walls in my firm's decorating projects — and I'm proud to say blue-and-white stripes are featured in my own home in Palm Beach. And those stripes are definitely Classic Blue.
While I don't know many folks who paint their walls Classic Blue, I've met a few who have done so — and they often pair the color with sunshine yellow. These are the sun-lovers, not the moon-smitten folk. Here's a color scheme I think they might like, and you might, too.
Paint the walls a happy sunshine yellow with white trim and cover the floor with a Classic Blue sisal of the soft-to-walk-on variety. Upholster the sofa in a tightly woven fabric of Classic Blue, and for the accompanying club chairs, a fabric with 3-inch-wide stripes of Classic Blue and white would be my choice. As Classic Blue is a primary color, accent your sofa with cushions of the other two primaries — red and yellow.
Choose white lacquer end tables topped with lamps that have bases of Classic Blue fitted with white shades, perhaps trimmed in yellow.
If you want to add a nautical touch to the upholstered seats of your pull-up chairs, I would select a white fabric and then trim it with a Classic Blue rope trim and tassels. The rope-trim motif would also work on the white-linen drapery at the windows. Then, for a real punch in your room, fit your windows with old-fashioned venetian blinds in the color of the year — Classic Blue.
Leave a Reply