Color Can Warm Up Your High-Rise Glass Home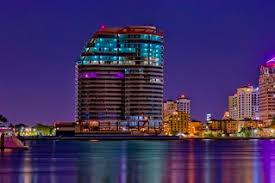 By Carleton Varney Special to The Palm Beach Daily News
In this age of steel-and-glass high-rise condominiums that define the skylines of America, it's fun to think of how you can make the interiors of such buildings charming, warm and inviting.
It is not easy, as concrete, steel and glass do not go well with rocking chairs of the President Kennedy style or with Marie Antoinette-era French chairs, although the latter can sometimes work as accents.
Sweeping expanses of windows, ubiquitous down lights and slick contemporary kitchens seem to call out for sectional sofas and glass-top tables, as well as club chairs that swivel, recline and just about fill up the spaces themselves. I sometimes ask myself: Why are these chairs so large?
I have a friend in Palm Beach County who has filled all of her white-painted rooms with furnishings in white, white and more white. While the architecture is modern all the way, the interior is what I would call vacuous, empty and cold — especially at night when one cannot see the swimming pool and the tropical plants beyond.
When decorating high-rise open spaces, I suggest using color to add warmth. Try painting the living room rich gold or vibrant red.
I also suggest high-rise dwellers consider hanging sheer curtains to add lightness to the windows on cloudy days or at night. I'm sure you've seen how bare windows after sunset can turn into big black expanses, especially if they face the ocean. Even the twinkling lights of a city view can be charming and candle-like, but they won't bring brightness to your space.
In large spaces with lots of glass, "floating" the seating arrangements away from the glass and the walls is often a way to go. Make sure there are carefully placed electrical floor outlets to handle cords for reading lamps. Hanging light fixtures also can pose a dilemma, as crystal designs tend to create jarring reflections in windows. That's another reason to hang those sheer curtains.
There's often just one wall — perhaps a short one — in the living room, and that's a fine place for a console table with a painting above. Choose a contemporary piece of art and bathe it in warm white light. The right bulbs can make such a difference. Often when I drive by high-rises in the evening, I look up and see room after room flooded with cold down-lights — not pretty, in my opinion.
All of us have different preferences, and those who wish to carry treasures from their ground-level homes to their new high-rise apartment may find their furnishings look out of place there. Thank goodness color can help temper the background and bring more warmth to that new place in the clouds.
Leave a Reply