Summer means Newport's on my mind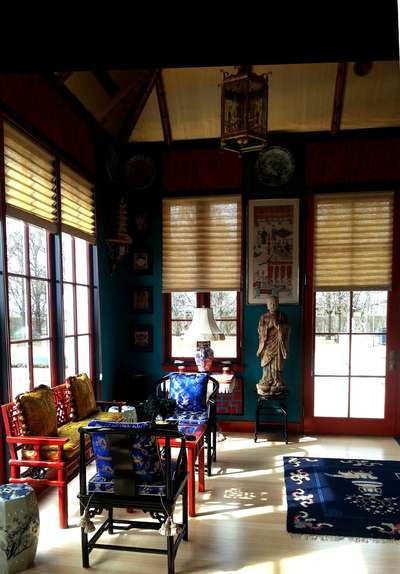 By Carleton Varney
Special to the Daily News
And that brings us to the grand old seaport town ofNewport, R.I, where the sailing crowd enjoys dining atThe Clarke Cooke House,The Black Pearl and La Forge Casino bistro adjacent to theInternational Tennis Hall of Fame. There are other Palm Beach folks who also enjoy the Clambake Club of Newport — as well as as their own or their neighbors' clam-bake gatherings. And, of course, who can resist those tasty lobster rolls and lobster bisque?
Newport in summer is, indeed, fabulous. When visiting, I'm somehow always reminded how much I like white linen pants and blue-and-white-stripe jackets. I would even don a white straw boater hat, I think, if I thought I could get away with it.
That ensemble could have been the perfect outfit to wear a few weekends ago, when I watched sailboat racing in Newport and Jamestown, R.I. I was thrilled that one of my friends and clients, Dutchman Pieter Taselaar, triumphed on the waters. Pieter is a Palm Beacher as well as a Newporter and loves both towns and historic preservation, just as I do.
Although I've visited them many times, I still enjoy touring Newport's Gilded Age mansions, built when the Vanderbilts and their like reigned supreme. Those "cottages" also bring to mind the era when Zelda and F. Scott Fitzgerald vaunted their artistic talents — and their social talents — around Bailey's Beach.
In each of the restored mansions, decorating ideas are in grand supply — and I underscore the word grand. Now, I know that we don't live in an era when rich velvets and heavy brocades and ceilings adorned with gold-leafed plaster details are the undisputed decorating standards of the day. Yet each of the Newport houses allows us to enjoy the beauty of yesterday, beauty created by families of prominence and wealth.
You can learn lots about historical decorating from visiting the great houses. You also can study the beauty of the gardens, which were abloom with rhododendrons and flowering dogwood during my visit. Dogwood's pink and white blossoms have been given high treatments in wallpaper and fabric design over the years, although they're not as pervasive, perhaps, as roses and lilacs.
Newport is famous for its annual flower show. And the town embraces oriental motifs as well. Just think of the famous Chinese Tea House at the Vanderbilt-builtMarble House.
Alice Lynch, another friend and a great hostess in Florida and New York enjoys a delightful home on Newport's ocean side. While the house is enchanting in its traditional décor, she has a guest house romantically styled with an Asian flair, filled with collections of art, statuary and just plain magic. It's just the sort of elegant yet whimsical delight that I can always find in Newport. Forget the stuffy, the old-fashioned or the overly ornate: Alice Lynch in her home shows personality to the nth degree.
Here's hoping your summer finds you in Newport, whether this year or sometime in the future.
Leave a Reply