St. Patrick's Day Calls For Green Scheme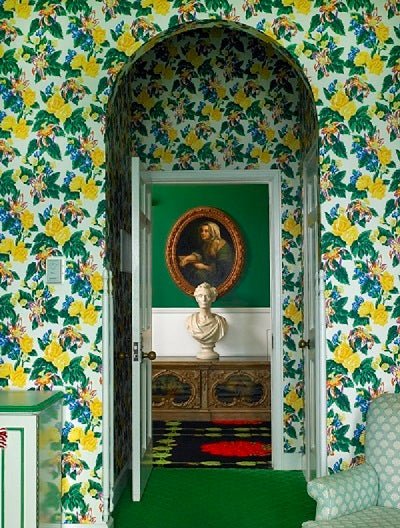 By Carleton Varney- Special to the Palm Beach Daily News
St. Patrick's Day is just around the corner, so let's revisit green, my favorite color, as you might remember. I like all the greens — banana-leaf green, pine-tree green, mint green, light green, dark green, emerald green. There are so many shades, and I love them all.
Just look at lush Irish gardens -- and their very different counterparts in South Florida — to count the different shades of green.
In honor of St. Pat's Day, here's a Palm Beach decorating scheme that might transport you to Ireland.
Try painting your drawing room walls the softest mint and the woodwork, doors and moldings the whitest white. At your windows, over pull-down white shades, hang drapery of white linen trimmed in green grosgrain ribbon (the wide tape kind).
For the floor, choose a soft green rug with a white border. It sounds unpractical, but Palm Beach decorating has to be sunny and soft. For your sofa choose a bright tropical banana-leaf print. I would accent the sofa with some tropical colored cushions, maybe orchid- or azalea-colored.
Your club or lounge chairs can be a mint green with cushions trimmed with welting in banana-leaf green. Choose furnishings in the bamboo manor, including white lamps with bases in the shape of palm tree lamps, topped with white shades. I'd want a clear acrylic coffee table and pull-up occasional table of the same material.
Now, of course, any Palm Beach living room needs some natural greenery, and in this case I'd choose palms in white ceramic pots. Fresh flowers are a must, too. Tropical varieties would be perfect for this room.
The walls will need some sparkle, so I'd choose contemporary art with lots of color. It will give the room some extra "wow," and those mint-green walls will provide a lovely background for the artwork you choose.
I think this room would be a perfect place to entertain friends on St. Patrick's Day -- or any day!
Leave a Reply