Spring is Coming. Time for Flower Power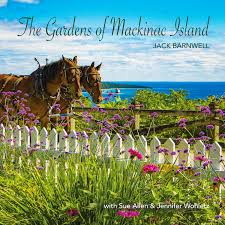 By Carleton Varney- Special to the Palm Beach Daily News
I have in my office a sign that says "He who plants a garden plants happiness!"
I totally believe that sentiment: I've always found flowers and gardens to be a source of beauty, fragrance and happiness.
And so does landscape architect Jack Barnwell. His new book, "The Gardens of Mackinac Island", is among the most beautiful I've encountered during my career, with delightful photos of flowers, trees, lawns and table arrangements.
The hardcover book focuses on landscapes on the resort island between the Upper and Lower peninsulas of Michigan,, home of the Grand Hotel, for which my company has for many years served as the official decorator.
Barnwell's book provides fresh ideas for terrace and patio decoration as well as for creating flower arrangements for everywhere in the home, from centerpieces to side pieces. You will also find ideas for displaying and better enjoying potted plants, ferns and palm trees. Even a small garden of simple cosmos ban become a home delight.
Barnwell divides his time between Mackinac Island in the summer and Naples, on Florida's west coast, during the winter. He collaborated on the self-published hardcover book ($65) with Sue Allen and Jennifer Wohlentz and you can get information and see photos at JackBarnwellDesign.com
With spring just around the corner, it's no surprise that I've been thinking more about gardens. I also believe no interior is ever complete without flowers and greenery because bringing the beauty of nature inside helps create an instant feeling of serenity.
Flowers also can provide inspiration when decorating your home. Think of the impatiens we see everywhere in the Palm Beaches. The tiny flowers range from deep violet to red to pink to white- and many is the Palm Beach landscaper who combines various colors of impatiens to beautify the high rises along South Ocean Boulevard.
The coastal road is the route I prefer when traveling south from Palm Beach to Delray Beach or Fort Lauderdale. If you haven't driven this route lately, try it for a new adventure. Not only will you avoid the traffic headaches of Interstate 95, but you'll see majestic homes and lovely gardens along the way.
Here's an impatiens-inspired decorating scheme for a lovely living room. Begin by painting the walls a soft pink with impatiens-white trim and a wood beadboard floor with a whitewash finish and a coat of polyurethane to protect it. At the windows, hang curtains of white linen from pale-green poles, the same color you'll choose for your rugs.
For your cushy-and-comfy sofa, I would select an upholstery material with stripes of a soft pale green and white. Throw cushions for the sofa can combine all the impatiens colors from pale pinks to rich magentas.
Cover your side chairs in a floral-glazed chintz patterned with pink flowers on a white background, which is so very Palm Bach garden in feeling.
Lamps with rich-and-deep pink bases would be my choice atop white-lacquered end tables. A clear-acrylic coffee table that displays a large orchid would provide the perfect Florida note, as orchids are everywhere on the island- even hanging from palm trees along South Ocean Boulevard.
If you're looking for orchid ideas in the Palm Beach area, I recommend a trek on Saturdays to the local green markets, whether you visit the one immediately east of the bridge to Lake Worth or the other in downtown West Palm Beach. You'll find plenty of options.
And closer to home, Palm Beach Orchids by Lindsey has a lovely selection at 237 Sunrise Avenue.
Wherever yo get your flowers, get them! Spring is nearly here.
Leave a Reply