A Dash of Retail Fun with Sherry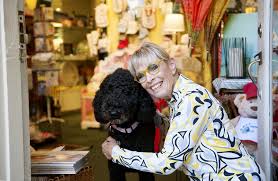 By Carleton Varney- Special to the Palm Beach Daily News
Where can you find a shop in Palm Beach that is filled with love and fun?
Certainly at Sherry Frankel's Melangerie, 256 Worth Ave. in the Via Amore, where Sherry and her beautiful black poodle, Dash, welcome shoppers looking for something remarkable.
Sherry and her Melangerie have been at the same location for more than 25 years, offering treasures that make perfect hostess gifts for the in crowd -- and perhaps for the outlandish who have a sense of humor.
I love Sherry's pillows and tea towels emblazoned with witticisms -- some silly, some a tad naughty. I particularly like: "If things get better with age, then I am approaching magnificent!"
You never know what you'll find in the shop, with dozens of items that can be customized. There are doormats featuring dog breeds, including Westies ($30), and place settings of hand-painted wine glasses. You'll find stuffed animals to please the kids or grandkids. Sherry's shop has sugar spoons with amusing handles and lamps mirrored in unique designs.
The store is as whimsical as Sherry herself, with her green nail polish, her gold-and-bejeweled fingers and her designer cat's-eye glasses. Sherry's desktop is one that tells you immediately who she is. Check out the wall behind her desk and you'll see cards, photographs and press clippings that tell you Sherry is very much part of the Palm Beach scene, then and very much now.
I must add a note here that my son, the jeweler Nicholas Varney, has opened a small boutique right next door to Sherry Frankel's Melangerie. Like Sherry, he also is an animal lover. But he's not yet the Worth Avenue icon that she is!
Leave a Reply