Hot Dog! Here's Some Tasty Design Inspiration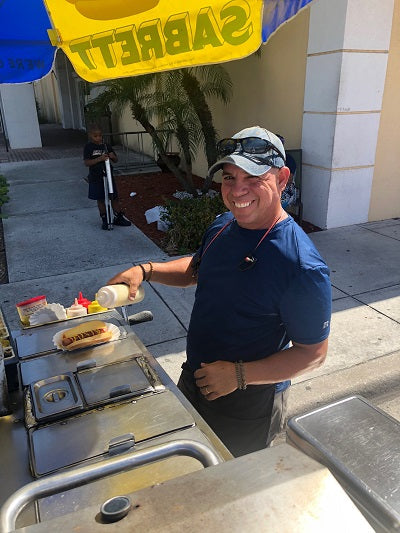 By Carleton Varney- Special to the Palm Beach Daily News
Winter in Palm Beach means spring training for the baseball players at Roger Dean Stadium in Jupiter and the Fitteam Ballpark of the Palm Beaches in West Palm Beach.
And what's a good baseball game without a good hot dog? You can take me out to the ballgame anytime — and in return, I'll give you some hot-dog decorating inspiration, believe it or not.
During my childhood, my sister, father and I were Red Sox fans who saw plenty of games at Boston's Fenway Park, and I spent many an afternoon filling out the scorecard on my Jim Britt calendar book. Most folk will not know who Jim Britt was — but many older fans will, for he was famous in the Ted Williams and Dom DiMaggio era.
When we were at the games, the hot dog man always served steamed frankfurters and rolls, and in my memory, they're still the best I ever enjoyed.
I sometimes think of those hot-dog days when I ride by the cart of hot-dog vendor Joaquin Plaza, who sells sodas and frankfurters outside the Goodwill Industries thrift store at 5400 S. Dixie Highway in West Palm Beach.
I often stop by Joaquin's cart and savor one of the best hot dogs in all of the Palm Beaches, as far as I'm concerned. I suggest you do the same, and while you're there, look at Joaquin's tray of toppings, not just to pile onto your frankfurter but for decorating and color inspiration.
In the tray are white onions and green relish and pickles, along with the familiar red ketchup and golden mustard. And don't forget the red and oranges in the bottles of hot sauce.
McDonald's went for a ketchup-and-mustard scheme when it came time to choose the color schemes for its restaurants. And while you might not readily consider that combination a color choice for home decorating, I would urge you to think otherwise.
Begin by thinking of a kitchen and family room with this scheme. Paint your family room walls a rich mustard yellow, with all cabinetry finished in either walnut brown or rich white. Choose the McDonald's golden-arches color for your countertops and backsplash.
For flooring, my choice would be a checkerboard pattern of 18-inch squares in bright red and white laid on the diagonal. And at the windows, hang curtains of red-and-white gingham.
Such a combination of mustard gold with tomato red would be right on the menu for your kitchen. For the seating in your adjacent family room, you might choose upholstery in a lighter mustard color, accented with throw cushions of red, white and, perhaps, relish-green.
Next time you pass by Joaquin's stand on Dixie Highway, stop and say hello. He has been at his cart for 14 years and will greet you with a cheery face under his yellow-and-blue Sabrett umbrella. His bright smile and delicious dogs will keep you coming back.
Now, who knew you could get decorating inspiration from a hot dog stand?
Leave a Reply