Raising a Glass in Memory of Desmond Guinness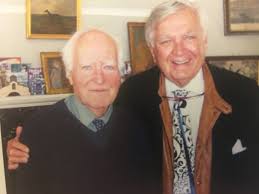 By Carleton Varney- Special to the Palm Beach Daily News
Our good friend and Palm Beach enthusiast Desmond Guinness died at 88 on Aug. 20 after a lengthy bout with Alzheimer's disease. The Irish author on Georgian art and architecture was the second son of the brewer Bryan Guinness and Diana Mitford, one of Great Britain's famed Mitford sisters.
Desmond bought Leixlip Castle in County Kildare, Ireland, in 1958 and lived there with his second wife, Penelope Cuthbertson, who was known to friends simply as Penny.
Desmond first came into my life in the early 1960s when I was still in the early days of my decorating career. Dorothy Draper & Co. and I were engaged to design, decorate and renovate Dromoland Castle, the O'Brien home, in Ireland's County Clare.
Desmond became a good friend in the late '60s, when I was also the design consultant for the Spiegel catalog. He and I worked together in preparing an Ireland-themed supplement to the catalog, offering the American consumer a look at the products sold by Irish Georgian Society, which he had co-founded. The items included handsome table placements, among other designs.
Leave a Reply