Portugal Provides Beautiful Design Inspiration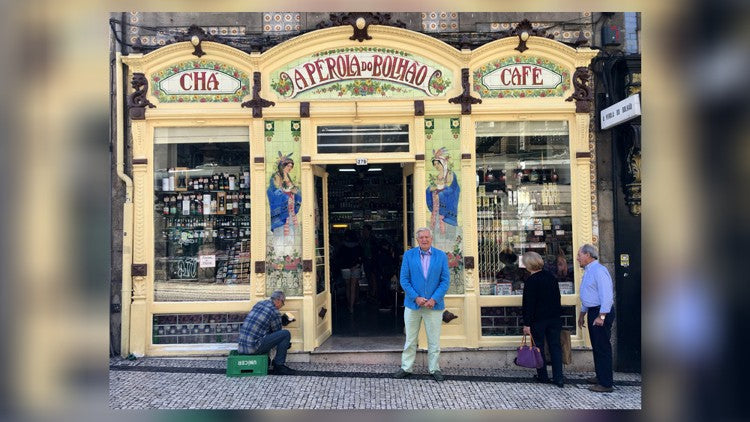 Portugal calls. Those of you who love the Iberian peninsula know that the Mediterranean Sea calls to tourists who love the sparkle of aquamarine waters. I'm always intrigued with the many different blues off the Iberian coasts of dramatic Spain but also tiny Portugal.
I was recently in Lisbon for several days working on a project involving tiles, tiles and more tiles. Portugal is without question the country of tile-fronted houses, cathedrals, walls and countertops, not to mention fabulous bar-fronts, bathrooms, kitchens and fireplace mantels.
If you are a tile enthusiast, as I am, you likely know that in Portugal, tile makers and painters can pretty much create anything you might dream up. And dreaming I have been, designing a garden fountain, walls and floors for a project in South Florida.
The country's famous azulejos tiles — in blues and whites — front the facades of many cathedrals here, which are of great interest to tourists. A must-do is a stay at the Lapa Palace, a hotel once the home of a Portuguese count. The palace is one of the most beautifully appointed and maintained resorts I have seen anywhere in the world; it's antiquity in perfection.
The dining room reflects Old World glamour, with Venetian Murano glass chandeliers hanging from a cloud-mural ceiling, and beautiful draperies of coral and pink silk hanging at magnificent windows. Lapa Palace offered me plenty of decorating inspiration, from the trellis work in the gardens to the custom-carved furniture in the guestrooms.
The pièce de Portugal résistance was the tile work in the luxurious bathroom. The blue-and-white designs of the tiles speak volumes, testifying that tile craftsmanship in Portugal is the very best in the world.
And when decorating in the style of Lisbon, I wouldn't want to overlook those wonderful Portuguese rugs. Any design and size you might wish can be woven for you in a few months. Vendors, of course, can supply you with many in-stock handmade rugs of various colors and designs. I'm certain for those who do not wish to wait for a delivery, you would find just the perfect carpet to lay on your hallway, bedroom or living room floor.
Portugal also is the place for linens for the bedroom — some lace-finished, some with appliques, some detailed with handsome borders in a host of colors.
If you're traveling to the Iberian peninsula, you will indeed find enchanting waters but also magical ideas for your home.
Leave a Reply