Palm Beach Dramaworks' Set for 'Little Foxes' a Hit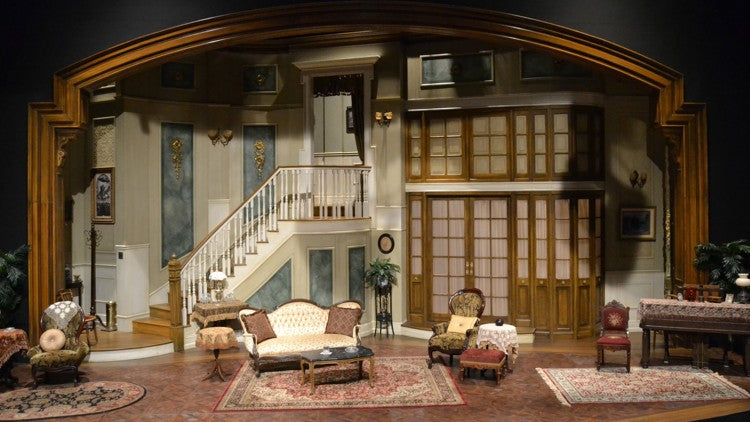 By Carleton Varney- Special to the Palm Beach Daily News
Attention, theater lovers, attention!
What a treat it is to see a great production of a classic play — and what an added bonus it is when the sets, the costumes and the lighting design are nothing short of perfection.
If that description appeals to you, then before Nov. 12, you should drive, march, jog, quietly stroll or even roller skate to the box office at Palm Beach Dramaworks on Clematis Street in West Palm Beach. There you shall see in the Dan and Ann Brown Theatre about as fine production of Lillian Hellman's The Little Foxes as you'll ever enjoy. I saw it last Friday and was transported to the turn of the 20th century to watch the scheming machinations of a dysfunctional family in the Deep South.
I was so impressed by Michael Amico's set design and decoration of the Giddens' house, right down to the lace table skirts. His work is simply genius. The Victorian setting — with its settee, chairs, oriental rugs, hobnail table lanterns, foot stools, oval mirror frames and blue-green marbleized painted wall surfaces — is right on target. Anyone with an interest in interior design, period or otherwise, should see the show.
The production team has also delivered a fine lesson in how different elements work together to create a cohesive whole. That's a lesson I've learned in decorating, where all things have to be coordinated — the style of the furniture, the color scheme, lighting, decorative accessories — to achieve a successful interior.
Toward that end, the costumes by Brian O'Keefe are on point. The color of the fabrics used for the women's costumes contrast happily against the blue-green-and-burgundy set. Amico and O'Keefe's work is complemented by the lighting design by Paul Black. The overall effect is magical.
I remember seeing Elizabeth Taylor play the role of Regina Giddens, with Maureen Stapleton depicting Birdie Hubbard on the stage, and that was a thrill some years back. To be sure, Bette Davis in the original movie version was simply astounding. So I give credit to the Dramaworks' actresses Kathy McCafferty and Denise Cormier for their incredible talents. Theirs are true star turns, matched by Caitlin Cohn, who plays the young Alexandra Giddens.
Much can be said for the charms of regional theater, and to be sure, this production ranks at the top of the scale, with fine style in fashion, set design and acting.
Go! And after the show, stop to say hello to Broadway actress Avery Sommers, who many Palm Beachers know from her performances in The Royal Room at The Colony. She plays Addie in the production, and I sing her praises as well.
Leave a Reply