Look to San Francisco for Window Design Ideas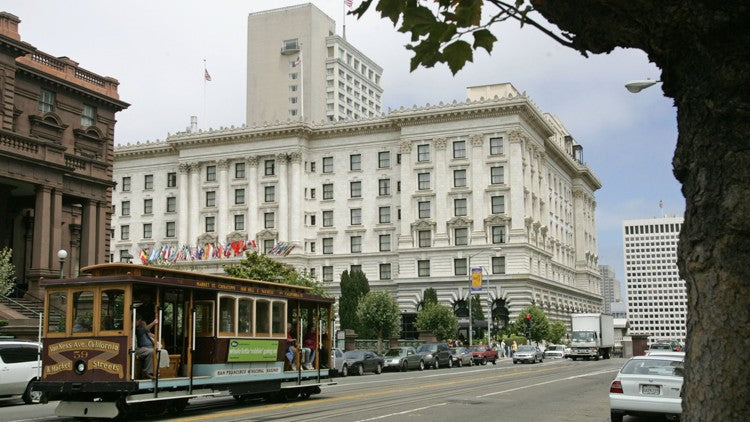 By Carleton Varney- Special to the Palm Beach Daily News
Did you leave your heart in San Francisco? Maybe or maybe not, but lots of folks apparently have in this city by the bay. You'll find lots of things Asian and lots of things golden, including sunsets over the Pacific and, of course, that famous bridge.
I always enjoy a visit to San Francisco, which has lots of places to visit. Right now, you'll find a terrific exhibit focused on the works of Gustav Klimt and Auguste Rodin at the Legion of Honor. Then, you might visit Fisherman's Wharf, where Alioto's still holds reign over the seafood restaurants. Of course, there is Nob Hill where the classic Scarlet Huntington hotel has gone mad, mad with a lobby in a circus-like mood.
The Stanford Court on the hill is getting a renovation, while the historic Fairmont and Mark Hopkins tower above the neighboring edifices.
Downtown's Palace Hotel still has its glass dome ceiling — a must-see — and the St. Francis Hotel on Union Square is a nice place to relax above the crowd in the park-like setting.
Architecturally, San Francisco is also a treat. It may be called the City by the Bay, but to me that nickname might as much a reference to the town's abundant bay windows as it is to the water. Bay windows are everywhere — no surprise, really, in a city filled with row houses.
Some bay windows take a rectangular shape; others are rounded. But all beautiful. Bay windows in rooms give occupants side views, and in San Francisco, that view is likely to be of a hill — up on one side and down on the other. Oh, San Francisco does have hills. I think of what the city would be like if snow and ice covered the ground in winter. Navigating those inclines would take a bit more effort, wouldn't you say?
I favor bay windows for many reasons, and not just because they so nicely frame outdoor views. They also bring in plenty of natural light and give a room the appearance of having more floor space. A bay window is a super spot for a round card table, or if the bay is wide enough, a dining table that might seat six or eight. I have always said round tables are the most friendly, and if at all possible, I use them in my firm's design projects. I might place a smaller round table in front of a bay window and then flank it with a pair of wingchairs to create a sunny retreat.
Bay windows are also great spaces for the indoor botanist, a place to keep summer geraniums in the warm sunshine all year round. I love to see bay-window gardens filled with happy ferns and other hanging flower baskets.
A bay window is also a perfect spot where many families showcase a Christmas tree or a menorah. The winter holidays, believe it or not, is just a few weeks away — and 2018 is right behind.
For those of you considering a new home renovation project, why not go the San Francisco bay way?
Carleton Varney is president of Dorothy Draper & Company, one of America's first and most acclaimed design firms, with offices in New York City, West Palm Beach, London and White Sulphur Springs, W.Va. Visit CarletonVarney.com to shop his collection of exclusive, colorful designs for your home.
Leave a Reply