Recalling Another Decorating Powerhouse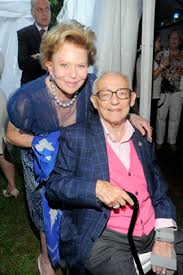 By Carleton Varney - Special to the Palm Beach Daily News
Perle Mesta may have been known as the hostess with the mostest, but my late friend Charlene Nederlander — a client for 10-plus homes — could certainly have been at the top of the list.
She was married to the late Jimmy Nederlander, the Broadway producer and theater owner. From Arizona to New York to Palm Beach, the Nederlanders were always decorating. And as much as Charlene loved designing, Jimmy loved it too. The two never missed an antiques show or a jewelry exhibition. Charlene always knew diamonds, rubies, emeralds and sapphires were a girl's best friend. Jimmy also loved jewelry.
His redheaded wife of 47 years died June 19 in her home Southampton, New York. I am saddened to think that she and I will not be decorating any more mansions or condominiums in Palm Beach. We created six homes on the island, one of which we just completed at the Palm Beach Biltmore. After Jimmy died in 2016, Charlene decided to downsize to a condo and sold her Intracoastal Waterway home on South County Road.
The Nederlanders' homes often appeared in the pages of Architectural Digest in the days when the magazine was orchestrated by Paige Rense, its editor-in-chief, who had an eye for presenting the best of the best decorating projects on the world stage.
Charlene was a woman who loved color. She never liked the world of oatmeal tones or of grays. No client I ever had could set a table, arrange pillows on a sofa or plan a theater party in the manner she did. Her bed settings — with pillows, sheets, duvets, bedskirts and accents — were always perfection. In fact, Charlene herself was a woman of perfection. She kept her husband looking as neat and manicured as Cary Grant in colorful sweaters from Trillion on Worth Avenue, snappy ties and always that special cashmere coat. Jimmy was such a super guy, always the happy soul.
I was there for many events Charlene planned — numerous birthday parties brimming with color and magical themes; a party I recall on the roof of the St. Regis in New York; and memorable Broadway show celebrations.
Charlene had departed Palm Beach just a few weeks ago, headed for the summer to her home in Southampton — a house she, Jimmy and I decorated together.
Charlene has left us, but the fun and fanfare go on. Her daughter, Kristina Gustafson (Nederlander), will certainly carry on her mother's memory and legacy, as will Charlene's grandchildren, Gunnar and Krissana. Kristina is a polo-playing horsewoman, as is Krissana. She also leaves behind her stepson, James L. Nederlander, and his family.
Charlene will certainly be missed by Blair Zwillman, her devoted assistant, who attended to her professional and personal schedules and those of Jimmy Nederlander at the Nederlander Organization, where Charlene maintained an office adjacent to her husband's. She'll also be remembered by Tony Daher, who was the couple's personal attendant for many years and truly part of the family's inner circle.
I have no doubt that Charlene is in heaven and rearranging the throw cushions on the sofas there. She could have been the No. 1 decorator in America, had she wanted to be. Talent she had, and that talent radiated to all of us who knew her and remember her energetic heart and her eye for style.
Leave a Reply