Mural walls worth a look in a home or business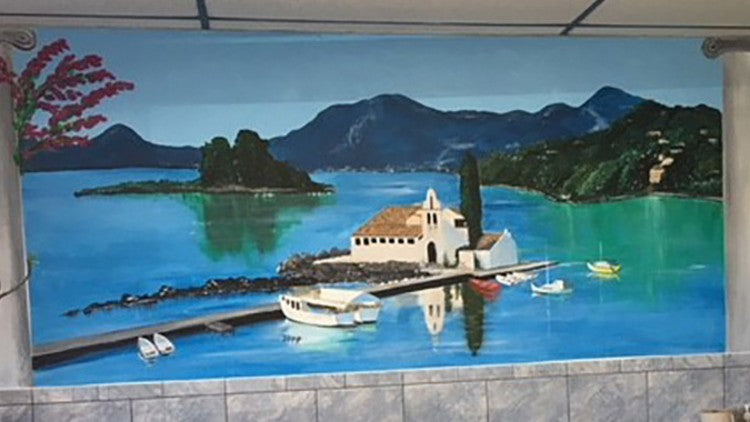 By Carleton Varney - Special to The Palm Beach News
Decorating trends come and go, but there are a few evergreens. And among the latter are murals — hand-painted sometimes on canvas and then applied to wall surfaces and sometimes painted directly on the wall surface itself.
I recently was reminded about the effectiveness of mural walls when I was shown an apartment for sale at The Biltmore on Bradley Place in Palm Beach. The dining room of the condominium had been wall-covered with a French château scene in soft pinks and corals, accenting the adjoining living room where walls were painted coral. The mural wallpaper was one I recalled from the 1960s or early '70s, and its design featured fountains and gardens and an abundance of trees — a wonderful accent to the French décor.
Today's Palm Beach interiors often feature murals, not only on wallpapers designed by artists such as Zuber but also painted by people such as Susan Kent, an artist who has created magical wall murals for our firm and for some of Palm Beach's super decorators. Susan paints at Susan Kent Studios on South Dixie Highway and can be reached at 602-2305.
Near her studio is a great spot for breakfast or lunch, SouthEnd Kitchen (6108 S. Dixie Highway), which, coincidentally, has a mural on its wall.
If you stop in for a meal, you'll likely meet proprietor Frank Merissiotis. Actually, "Frank" is his Americanized name — his first name is Fotis — and he's a Greek gentleman who specializes in moussaka, spanakopita (spinach pie) and what I might describe as the best gyro in town. He and his group of assistants — Amy, Lillie, and Anna — once worked together in a Belvedere Road restaurant.
The restaurant is known for its Greek cuisine — the Greek salad is a must-try — but it is also known for that mural, which was painted by Gary Carpenter, a classmate of Frank's partner, Linda. Frank loves to feel at home each day as he cooks, so why wouldn't he bring a feeling of Greece into his restaurant? Blues and whites in particular echo the colors of the Greek flag.
I think murals are especially suitable for dining rooms — perhaps your own. If you wish to do a mural with scenes of the grape vineyards of California or Italy, you can commission an artist for the job or, perhaps, keep an eye out for a wallpaper from one of a number of dealers. The firms Gracie and de Gournay offer to designers and decorators some of the most beautiful garden scenes in the world — many in the French manner, others with an Asian flair.
Many Palm Beach homes already feature murals on ceilings and bedroom headboard walls, and in entry halls and garden-theme conservatories. And I say, it's a decorating device worth continuing.
Leave a Reply