Find design gifts that come from the heart at Valentine's Day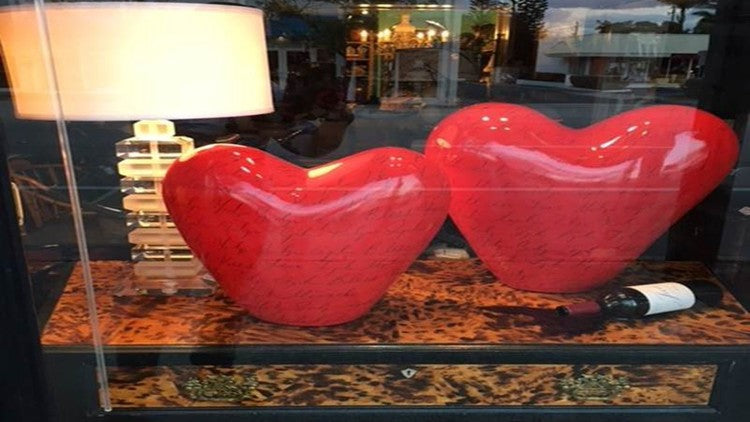 By Carleton Varney- Special to the Palm Beach Daily News
Happy Valentine's Day to all my friends and friendly readers! You have made my many years writing this column rewarding and exciting and, believe me, an adventure. For those of you who like color and love hearts, Wednesday is your day to decorate with red and pink to your — shall we say — heart's content. This is the day to enjoy all those candy boxes laced with ribbons and bows and all the confectionary-pink colors in the universe.
When I was a child, I remember the Valentine's box — one of my mother's hat boxes — in the classroom, into which my classmates and I placed our cards through the slot. That box was decorated with stripes of pink and white with a stencil designs that said: "Today is Valentine's Day."
If you are thinking about a Valentine's gift, I can assure you that there are many for the home that will and can fill the bill. Here are a few items to consider that will decorate the home all year 'round.
* Bed linens with a heart shape in the pattern. For many moons, linen fashion houses such as D. Porthault and Schweitzer Linen have produced a heart pattern in colors such as pink on white, blue on white and green on white, and these linens have always been right on target and very practical. Stop by a linen shop on Worth Avenue or visit Pioneer Linens on Clematis Street in downtown West Palm Beach. See what fanciful heart-shaped patterns are in stock and may be on sale. Linens always make great gifts.
* I think a mirror would reflect your fondness for the recipient, perhaps a heart-shaped one in the Venetian style. I'll bet you can find a beauty in one of the antique shops on South Dixie Highway. Stop by Iconic Snob Galeries or James & Jeffrey Antiques or visit Brass Scale and chat with the owner Judy Barron, who often is called the queen of Antique Row. If she doesn't have the mirror of your dreams, she will know who does. She is so generous with sources and information.
* They weren't necessarily my design cup of tea, but heart-shaped headboards and beds were once in vogue. Of late, I have not seen any beds with a heart design, but I have seen headboards. Perhaps you might like a heart-shaped twin headboard for your child's bedroom. Some time ago, I designed a room for two young sisters and provided heart-shaped headboards upholstered in a plaid of pink, white and raspberry with borders of strawberry velvet.
* Crystal accessories featuring heart shapes or engraved hearts are available in many shops. Look for a Waterford crystal heart-shaped ring-holder or a crystal soap dish or even a heart-shaped vase. If you find the latter, why not fill it with some pink or red tulips. To me, Valentine's Day always means that spring is in the air.
Leave a Reply