Mrs. Mac's Fillin' Station Decor is Worth the Drive to Vero Beach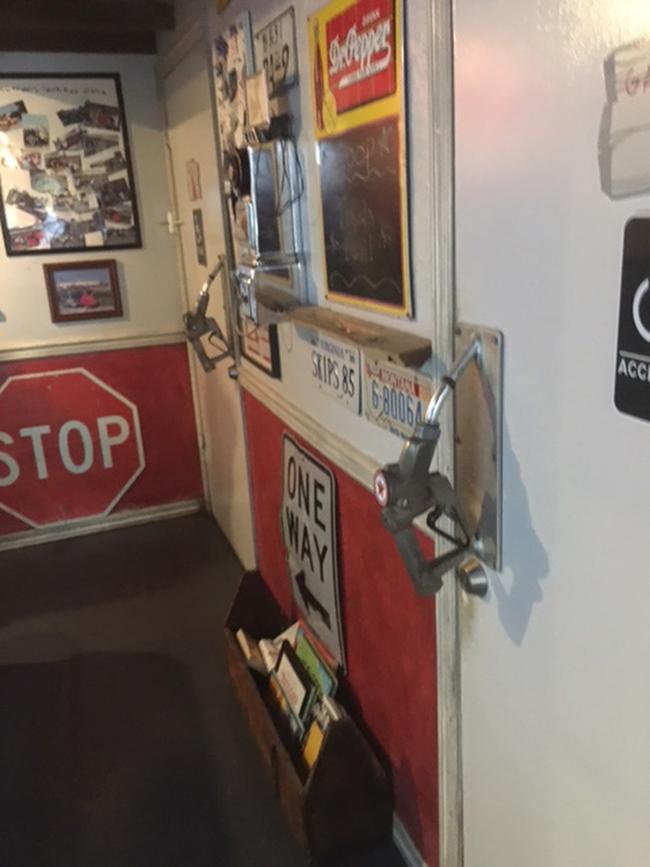 By Carleton Varney- Special to the Palm Beach Daily News
Do people still take Sunday drives?
As children, my sister and I often went for a ride in the car on Sunday with our parents, perhaps stopping at a roadside stand for ice cream in a sugar cone. My favorite was always orange sherbet, while Vivian always selected strawberry.
Since we lived in a seacoast town in Nahant, Mass., the car ride generally took us along the shore to Swampscott, Marblehead or Manchester-by-the-Sea. Palm Beach and our coastal highways remind me so much of my early life that I often take Sunday off to see other villages and towns north of our Palm Beach home.
Where do I like to head when I head north? There are so many delightful beach towns — Hobe Sound, Jupiter, Stuart and, of course, Vero Beach, where life is filled with sandy stretches of oceanfront for the world to enjoy.
Before we embarked on a weekend drive recently, a friend encouraged us to stop in Vero for lunch at a spot I also would recommend. It is called Mrs. Mac's Fillin' Station, and while it is not on the ocean, it is a watering hole filled with "fillin' station" memorabilia and a super home-cooking menu.
Tablecloths of a racetrack black-and-white check set the background for menus presented on antique license plates — yes, actual license plates, from Massachusetts, Indiana, Utah, Florida and the like. The tin plates serve as the back and front covers with the luncheon menu inside. It's a truly clever way to recycle old plates, and one I had never encountered before.
Today even license plates are collectibles, as are antique filling-station signs for oil and gas brands. You name the brand, and Mrs. Mac's is likely to have it on the the wall somewhere. When you visit, you'll also see how gas-pump handles can be used as door handles — so appropriate and ingenious.
Even the napkins recall the oil rags that the pump boys used when they checked on the oil levels under the car hood.
When decorating your family room or perhaps a hallway, you might look for inspiration in the garage. Browse antique shops and perhaps you'll find some motorway memorabilia that you can use in your home, maybe an old highway sign or a big Pegasus Oil sign with the iconic flying Pegasus.
For the record, Mrs. Mac's Fillin' Station is at 951 Old Dixie Highway in Vero Beach. Be sure to check the hours before you go, as the restaurant is open only until 3 p.m. on some days and is closed on Sunday.
Oh, and you do not want to miss the peanut butter pie, which is homemade. That pie is dangerously delicious!
Leave a Reply