Versatile Scarves Make a Statement in Fashion and Decorating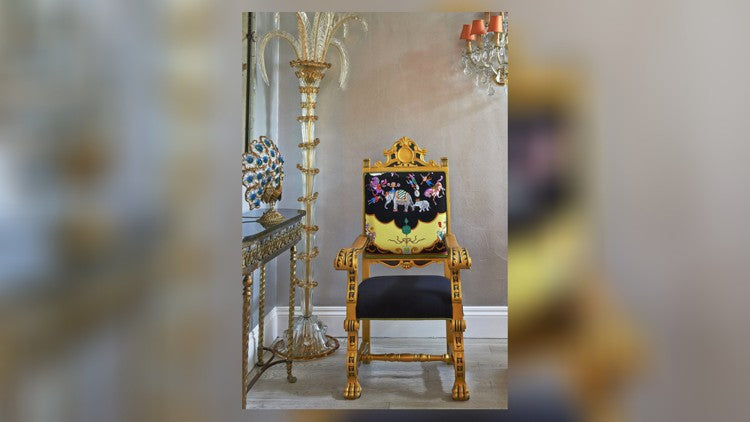 By Carleton Varney- Special to the Palm Beach Daily News
Palm Beach may be enjoying the warm days that some call "out of season," but judging from the activity I see in the vias and on the streets, I'd say Palm Beach is definitely on the go — and on the rise.
Across the middle bridge, The Bristol luxury condominium is taking shape, rising floor by floor above the Lake Worth Lagoon. And on this side of the north bridge, Royal Poinciana Plaza — rechristened "The Royal" by its marketing folks — has undergone a Renaissance. I've lately noticed through opened doors that crews are busy renovating a prime space there facing Cocoanut Row, the windows covered in distinctive Hermès orange. It looks like the store should be ready to open this fall to welcome the new season.
It seems like everyone, including yours truly, loves Hermès. Some adore the store for its leather goods, but I like its very distinguished scarf designs. No one, I think, has produced more beautiful designs to wear around the neck or hang fully framed on the walls than Hermès.
Hermès products are collectible, there is no doubt. Leslie Hindman Auctioneers showroom on Dixie Highway, I've noticed, often offers Hermes scarves in their catalogs, and I, for one, am always eager to see what's on tap. The designs vary from the equestrian to rocking horses, from Native American chiefs to Copacabana and Brazilian themes.
I must admit: Although I have I special fondness for Hermès, I do purchase scarves manufactured by other designers. I love to see scarves used to accent upholstery, and somehow the look seems so right for Palm Beach. I've seen Versace-patterned scarves used to cover pillow fronts or tossed casually on a sitting room sofa or a bedroom chaise.
As for making a scarf pillow, I take my purchases to George Gomez of G & G Upholstery at 6001 Georgia Ave. in West Palm Beach. And for framing scarves, I often turn to Stephen Johnson Framing; he's a genius and his studio is at 1608 S. Dixie Highway.
Those who have known me often ask about the scarves I wear in place of the expected necktie. I often take my finds to seamstress Kim Nguyen of Fine Stitches of the Palm Beaches at 4917 S. Dixie Highway for alterations. That often means cutting the scarf into two and sewing the lengths together. Carefully folded, it can be formed it into a handsome "scarf tie."
These are many ways to wear a scarf, of course, and there are many ways to turn one into an object of beauty to enjoy in the home. Go scarf decorating — from Vera to Echo to Christian Dior to Chanel and on to Hermès. You will find scarves with floral motifs and geometric designs — even landscapes and seascapes — so there's something to please every taste.
Leave a Reply