Maps are decorations in the right direction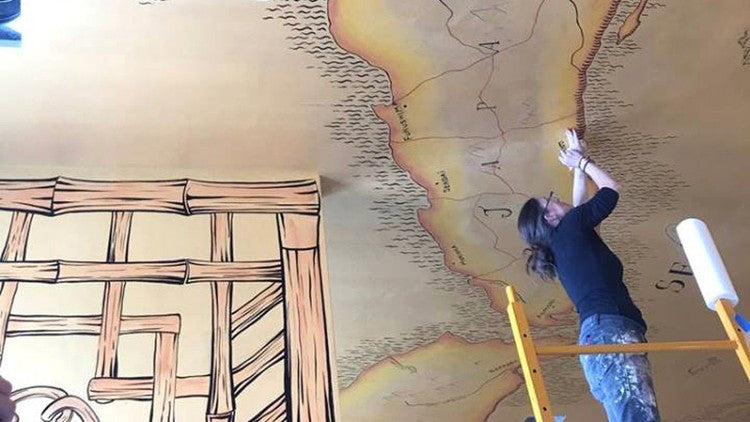 By Carleton Varney - Special to the Palm Beach Daily News
Maps remain a big decorating plus, even in an era when digital GPS mapping systems often have relegated paper versions to gather dust in the car's glove box.
But as I travel around the world these days, I find that maps — where they chart land or sea — are finding their way onto fabrics, wallpapers and ceilings, as well as coffee tables and end tables.
Last weekend, friends and I dined at one of the island's newest bistros, Costa Palm Beach in The Esplanade at 220 Worth Ave., the building that houses some of the town's finest boutiques. In fact, we dined at a table on the balcony and could see shop windows that spotlighted handbags on which were leather-cutout images of my favorite black-and-white Staffordshire dogs. Honestly, though, I prefer seeing the classic dog figurines displayed on shelves or on mantels. Just my taste, of course.
I enjoyed both the dinner conversation at my table and the Mediterranean seafood tapas — gambas al ajillo, or shrimp cooked in garlic-spiced olive oil.
One of the walls in the restaurant has been silhouette-painted with images of the European continent, and all the major seaport cities and towns duly noted. Portofino, Milan, Nice, Cannes, Madrid — yes, the maps transport you to all the ports of call, where delicacies from the sea are served at beachside and wharf cafes. In the men's room, I saw more walls with maps of the world, concentrating on the Mediterranean.
Costa is co-owned and operated by Sascha Bennemann and his wife, Danielle. It seems especially popular with the young set, who like its atmosphere of lively chatter and contemporary décor, with wooden floors, stucco walls, wood tables and chairs, and a busy bar.
I do find maps often used in decorating, sometimes on lampshades and sometimes as decoupage. The talented decorator is one who can decoupage lamp bases with blue-and-white nautical charts.
At the recent Palm Beach International Boat Show, one could find coffee tables and dining tables of mahogany with nautical charts set into their tops — perfect for a yacht. They reminded me of the tables at Flanigan's, the casual seafood restaurant and bar just west of the Southern Boulevard Bridge, which has nautical-influenced decor. Back at the boat show, I saw club chairs and dining chairs similarly upholstered in map-printed canvas.
Designer Brinsley Matthews in our office recently carried the map feeling into a project at Mackinac Island's Grand Hotel in upper Michigan. He had the ceiling at the Sushi Grand restaurant painted with a map of Asia, with each of the major cities marked with a tiny light.
Diners at the restaurant find the map a magical touch. It was painted by one of Palm Beach County's finest, artist Alice Bear Ludwig. Alice also is responsible for the enchanting decorations at Sloan's Ice Cream parlors across the bridge — an artist of many talents, indeed.
So keep an eye out for maps used creatively in décor. Who knows if they'll lead you to some ideas you might incorporate into your own rooms? In any case, you don't have to cross the Euphrates, the Seine or the Tiber to find good design.
Leave a Reply