Broadway's 'War Paint' is in the pink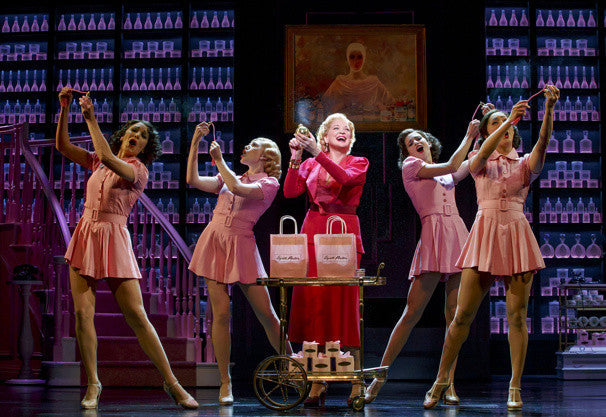 By Carleton Varney - Special to the Palm Beach Daily News
I like to think pink now and again.
Yes, I love pink rooms — whether they feature pale carnation or a deeper rose. And after seeing the newly opened musical War Paint at the Nederlander Theatre on New York City's West 41st Street, I believe the show might help renew a passion for pink among those who experience it.
The stars, Christine Ebersole, who plays the late cosmetic queen Elizabeth Arden, and Patti LuPone, as another late cosmetic queen, Helena Rubenstein, are filling the house each night to great reviews. Both are two-time Tony award winners.
In the musical, Arden favors pink, despite the fact that the door to her salon was painted that famous lipstick red. Of course, red roses and pink roses can be a beautiful mix in a vase. Ebersole delivers her ballad Pink with a marvelous depth of feeling, and brings the audience to its feet. LuPone also brings the audience to its feet with her rendition of the song, Forever Beautiful, which was crafted for her amazing voice.
Now, about pink: Not only is pink a cosmetics color, it is a room color that makes the face glow and sparkle. Like Arden, who was all about pink, you, too, can experiment with it, perhaps in your Palm Beach drawing room.
Try painting the walls a soft dusty pink, and the trim and doors a bright-white semi-gloss enamel. You might want to try rag-detailing the walls — or perhaps cross-hatching might be your choice, or a simple stripe. Some say such wall finishes are passé, but I ask: Why be a slave to the latest dictum on decorating issued by those who love to tell you what should be what. If you like special finishes, I say find a happy treatment for your walls. Remember, paint looks may go "in" and "out" of style, but they never disappear entirely — and they aren't permanent, either.
And here's another news flash: Pink is not only for girls. Think about the man of today who wears soft pink shirts with navy blue suits or pink sweaters with white linen trousers. Men who shop at Trillion or Maus & Hoffman on Worth Avenue will find plenty of colorful apparel that's a treat for the eye and for the wearer as well.
And don't hesitate to use pink for the outside of your home as well. The Bermudians love the color, as do the French for their châteaux. Think of the number of hotels and resorts with walls painted pink. The Boca Raton Resort and Club is famous for its pink exterior, just down A1A. Pay the resort a visit and be inspired.
And if you're heading to New York this spring, I hope you can get tickets to War Paint to enjoy Ebersole and LuPone. They're sure to have you thinking pink.
Leave a Reply