Kips Bay Palm Beach Show House Features One of My Favorite Designers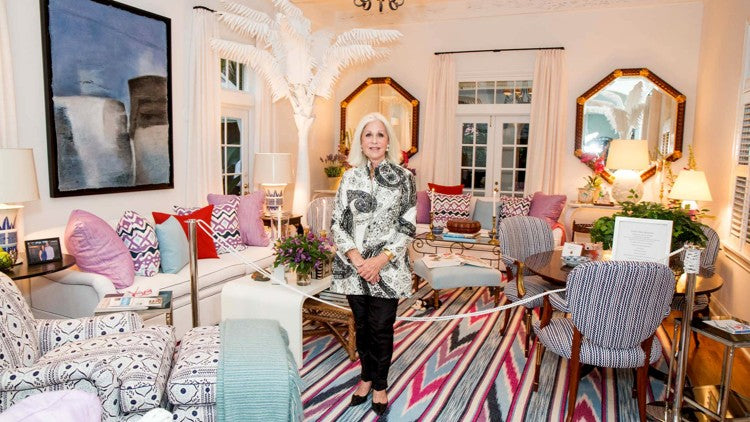 By Carleton Varney- Special to the Palm Beach Daily News
The Kips Bay Show House is iconic in New York City, and the designers who create spaces for the annual fundraiser are some of the finest in the business.
One of the designers, in my opinion, ranks among the finest anywhere — Susan Zises Green. In fact, Susan has decorated a space of honor, the drawing room, in the inaugural Kips Bay Palm Beach Show House, which just opened in a 1920s-era house off Flagler Drive. The proceeds benefit the Boys & Girls Clubs of Palm Beach County and the Kips Bay Boys & Girls Club in New York.
Susan calls her design for the room "Anglo-Indian" in style, and it is filled with color — indigo, blue, lavender and Schiaparelli pink — against a background of crisp white. The room is robust yet breezy, down to its white faux palm tree.
Susan already is well known to many Palm Beachers. She helped decorate the famous Maurice Fatio-designed house on South Ocean Boulevard that locals call the ham-and-cheese mansion because of its distinctive red brick-and-coral keystone banding. Owned by Marion and Penny Antonini, the house won the Preservation Foundation of Palm Beach's 2016 Ballinger Award for design perfection and was recognized by the Florida State Preservation Committee.
Susan keeps a busy schedule, traveling among Antigua, New York, Palm Beach and other destinations. As I have known her or quite a long time, I can tell you that she loves people and loves to create homes for her clients, homes that are likable, livable and lovely. Below are five of Susan's design wishes for all, as she related them to me:
* Make sure every room in your home has a touch of whimsy. Your interiors should make you smile and make your friends smile too. I, like Susan, believe that people today do not smile enough.
* Nothing in your home should be so precious that you can't enjoy it. If you happen to own a service of Flora Danica dinnerware, don't just display it. Use it and enjoy its beauty.
* Everything in a room should be appropriate for the setting. If you live in Antigua, don't go for silk drapery. This won't be appropriate — and they will not be useable after the first week, thanks to the island's famous humidity!
* Your home should be filled with joy, and that often means rooms filled with fresh colors. Yet for her clients who like muddy colors, Susan believes that's OK, too. A client should be comfortable with the colors in his or her home.
* Above all, create a home you are happy to return to! Susan says this is an essential. Your home should be a place you really don't want to leave.
And as for the show house itself, I send my best design and decorating wishes to all the decorators who have made this event a special plus for Palm Beach.
Carleton Varney is president of Dorothy Draper & Company, one of America's first and most acclaimed design firms, with offices in New York City, West Palm Beach, London and White Sulphur Springs, W.Va. Visit CarletonVarney.com to shop his collection of exclusive, colorful designs for your home.
Leave a Reply