Jim Nabors Was Kind, Colorful Man Who Embraced Hawaiian Style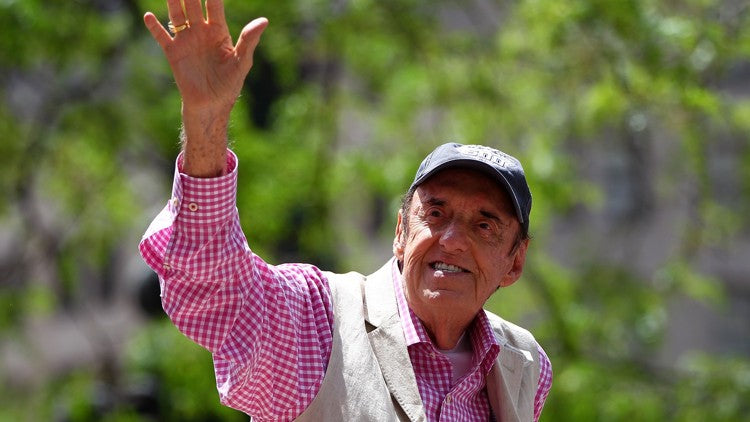 Jim Nabors, who died Nov. 30 at 87, was a delightful gentleman — and a true gentleman.
He came to fame in the early 1960s when he appeared on The Andy Griffith Show as the amiable bumpkin Gomer Pyle, a character who became such a big part of the actor's off-camera persona as well. In addition to starring in the spin-off series, Gomer Pile U.S.M.C., Jim went on to become a popular singing star, with his rich baritone voice, at the Hawaiian Village in Honolulu, where locals and tourists would flock to watch him perform.
I met him through friend Caroline Hunt, who created the Rosewood Hotel & Resorts chain of properties as well as being a philanthropist in Dallas. She and her childhood friend, Carolyn Lupton, also of Dallas, were close friends of the actor and through them I visited Jim at his home in Hana on the island of Maui and at his other home on Oahu.
Jim lived next door to the Shangri La estate, which was owned by the late Doris Duke in Honolulu. After her death, Jim and his partner in life, Stan Cadwallader, took over roles as caretakers of her house and its grounds. Jim told me that Duke had once asked him to be executor of her estate, but he declined. He believed had he accepted the request that the heiress would have lost trust in him, strangely enough. Apparently, she believed that everyone eyed her for her wealth.
Jim was much interested in decorating, and his home on Honolulu reflected that interest. Large, handsome mirrors in the French-style manor lined the drawing room, which captured views of the gleaming Pacific Ocean and Waikiki Beach. Jim loved the colors of Hawaii — and loved residing in the islands. His home was filled with eclectic memorabilia, ornate chandeliers and much European art.
Jim was an Alabama boy from Sylacauga, where his dad was a police officer. According to his New York Times obituary, Jim was a member of the glee club and church choir, and took part in the school band, playing the clarinet. His voice and amiable all-American-guy persona brought him a starring role in his own television show on CBS, The Jim Nabors Hour. Jim's friends were many. He often appeared with Carol Burnett on her variety show.
My conversations with Jim over the years were filled with stories about Duke, Debbie Reynolds and Burt Reynolds as well as decorating. For Men's Stylemagazine, I interviewed him for a feature story on his home in Montana. (Well, actually, I sent my son, Nicholas, to do the interview, and I did the write-up from the recorded tapes.) That home was furnished and designed with mountain-style wood furnishings and lots of color, woven Navajo rugs and accessories that were appropriate for a man's home in the wilderness. There also was a hot tub.
Jim Nabors' style was very much a mix of Hollywood glamour and Hawaiian colors on both Oahu and Maui. He was true to his character in the spotlight of fame and in his everyday life — a colorful, charming man who could and would befriend all.
Leave a Reply