Have a Ball in This Special Room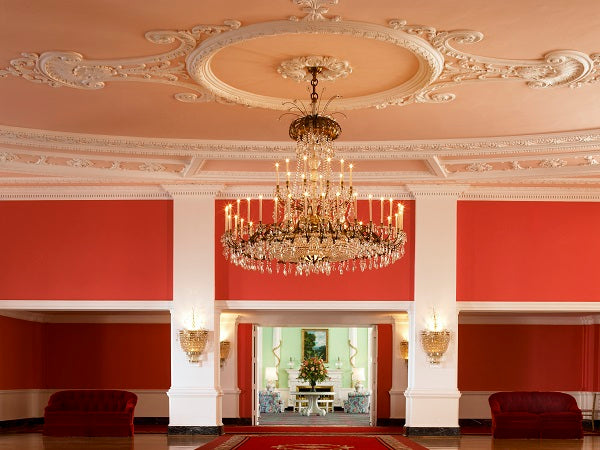 By Carleton Varney- Special to the Palm Beach Daily News
What family home has a ballroom these days? Few indeed, but there are still some around.
Not so long ago I decorated a private ballroom for a residence in Savannah, Ga.
The ballroom was on the second floor of a newly constructed residence and enjoyed a wraparound outdoor terrace with views of a waterway nearby. I designed the room with ceilings of sky blue painted with puffy white clouds. Walls were covered in apricot silk damask, and the floors were covered in gleaming fruitwood marquetry.
Although the ballroom was not enormous, it was sizable — and lighted by crystal sconces.
In the days of yore, a generously proportioned ballroom was a staple of Palm Beach mansions. At Mar-a-Lago, Marjorie Merriweather Post enjoyed hosting dinner dances in hers and often hired dance instructor Frederico McMasters to teach the guests a little cha-cha-cha or maybe the rumba.
Likewise, the 1920s mansion that stood for years at 1800 S. Ocean Blvd. — and was completely overhauled and rebuilt by Mary Montgomery and her late husband, attorney Robert M. Montgomery Jr. — had a ballroom. That grand room, along with the house itself, were razed by demolition crews last year.
Today, we often think "hotel" when we think "ballroom." But not all Palm Beach ballrooms are in resorts. I think of the Paramount Ballroom and accompanying dance studio that operated at 211 Royal Poinciana Way.
Now if, by chance, you happen to own a home that accommodates a ballroom, here's a little decorating advice: Always choose a background color that will flatter complexions. Think pinks and melons — and avoid greens.
My mentor, Dorothy Draper, understood that idea when she decorated the ballrooms of The Greenbrier in White Sulphur Springs, W. Va; The Mark Hopkins hotel in San Francisco, and the Hampshire House in New York City always chose pastel pink walls with white trim touched with gold to set the stage for a glamorous evening.
And remember: No guest wants to be consigned to a ballroom that could double as a basketball court. Ballrooms need softness on the walls and in the drapery to absorb crowd noise and offer a sense of tranquility, even in large spaces.
Leave a Reply