Book Offers a Feast of Flowers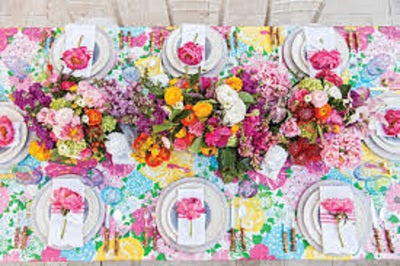 By Carleton Varney- Special to the Palm Beach Daily News
Every so often a coffee table book comes along that's filled with wonderful colors, good decorating ideas and magical photography. Such is the case with "Living Floral: Entertaining and Decorating with Flowers" (Rizzoli, $45). The author is Margot Shaw, editor-in-chief at Flower magazine.
If you have some late-summer gift-giving to do, definitely head to the Classic Bookshop or The Palm Beach Book Store and pick up a copy. The book showcases beautiful flowers in beautiful rooms by some of the best decorators in America.
The delightful decorator Charlotte Moss has provided the book's foreword and offers some beautiful photographs of her own home, which is filled with everything pretty.
The book is filled with practical how-to's. I especially liked the idea of creating a trio of baskets filled with flowers for a dinner table and making a table runner from peonies and roses. The book also shows you how to fill a cachepot with parrot tulips so that the arrangement looks natural and gorgeous.
Designer Elaine Griffin of Brunswick, Georgia, meanwhile, has created an exciting Lilly Pulitzer-inspired floral landscape for a luncheon-party table. Don't miss page 22, where you'll see a setting so colorful and magical, it warmed my heart.
What is wonderful about this book is that there is little if any beige. And that's appropriate, as I have yet to see a garden of beige and gray!
When Margot started her Flower magazine a few years back, I was so enthusiastic about the publication that I gifted my friends and clients yearly subscriptions.
Bravo to Margot and her crew, including Lydia Somerville and Karen M. Carroll, for creating a book that reminds us that flowers are an indispensable element of fine living.
Leave a Reply