Flowers Provide Colorful Cheer in Stressful Times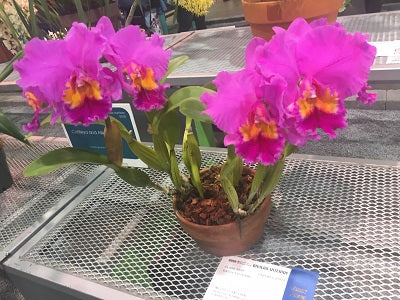 By Carleton Varney- Special to the Palm Beach Daily News
These days, we need all the cheer we can find. And for me, the floral colors associated with the arrival of spring are helping provide that cheer in a stressful world.
Tulips, hyacinths, and daffodils are springing up and with a blaze of color up north. Before the current health crisis escalated, I visited the Philadelphia Flower Show, which ran Feb. 29 to March 8. And I can tell you, the displays of flower beds and the terrace and patio vignettes were a treat to see. So were the displays for bridal events and the spotlight on Philadelphia native Princess Grace and the Princess Grace Foundation.
I love just about every flower. But orchids take the crown, in my book. Orchids are so loved by Floridians, and many yards in Palm Beach feature orchids hanging from palms.
Orchid also is a color prominent right now in the fashion world. I recently saw displayed in a Palm Beach store window a silk pantsuit in orchid — handsome. It would have been perfect for an Easter celebration.
When I'm in West Palm Beach, I have often stopped at Family Produce and Palm Beach Flowers at 7620 S. Dixie Highway to buy orchids. The shop has every kind of orchid imaginable as well as any color of rose in the large refrigerated rooms. I like the terrific selection of other cut flowers -- carnations, sunflowers, sweet peas and snapdragons, to name a few. The shop is a treasure indeed.
I'm never shy about my love of color in decorating, and I recently was inspired by a visit to the home of a woman who loves gardens. She had painted her home a pale orchid with white trim. Surrounded by a white picket fence, her home immediately said, "Welcome."
The entry and living room had orchid walls and white trim -- a nice nod to the exterior colors. Rugs of soft orchid had been placed atop rich-mahogany-stained floors. Her sofas were covered in an orchid print that also had lots of soft greens used for the flower stems. The print was also used for drapery and valances lined in mint green.
Her club chairs were upholstered in a woven fabric with a pale green and white geometric design. An ottoman covered in orchid white and green competed the color scheme. Of course, orchid plants were placed in wicker woven baskets on the top of the baby grand piano.
Leave a Reply