Decorating for a baby? Sky's the limit for color, pattern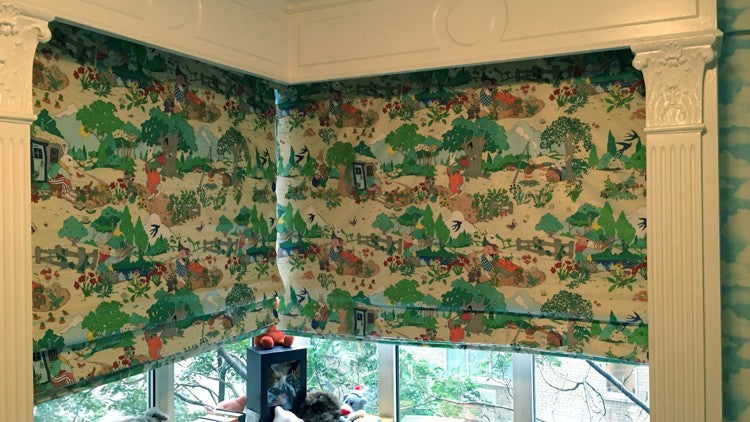 By Carleton Varney - Special to The Palm Beach Daily News
I'm Grandpa, the decorator.
And "joyful" is only one of the adjectives that can describe the birth a year ago November of my first grandchild — a boy named Bowie, born to my daughter-in-law, Victoria, and son Nicholas. "Proud" and "thrilled" are other words that might describe me these days.
Along with the pleasures of grandfatherhood came decorating duties, with my designing Bowie's bassinet, which he outgrew real quickly, and decorating his first room, a joy again. You might have heard this line from me before, but I truly believe that when you introduce a baby or child to color and beauty at an early age, that child will seek beauty forever. Babies should have rooms filled with magical colors — reds, yellows, oranges, blues, purples. Forget beiges and grays.
Some say certain colors are for boys and others for girls. I say that is the thinking of long ago. There is nothing out of reach for decorating a baby's room in whatever colors you wish. At the windows, for instance, I chose a Peter Rabbit-theme fabric with animals dancing around, a design that Beatrix Potter might have chosen for the endpapers in one of her cheerful children's stories. The design has pinks, oranges, yellows, greens and blues. They're all so happy!
I also believe a child's room should be as bright and light as possible. Starting with a mostly white interior for Bowie, I began my decorating by covering the walls with a wallpaper featuring puffy white clouds on a sky-blue background, a pattern that is neither feminine nor masculine. It is simply heavenly and dreamy.
For flooring in a child's room, I believe in easy-to-clean, hard surfaces on which a child can run a toy truck or practice putting together a larger-than-life wooden puzzle. To create softness on the floor in Bowie's room, I selected a yellow and white cotton woven throw rug, one that is machine washable. There are always spills on a rug in a child's room so practicality should always be called into play.
Baby rooms also require good wall shelving to hold baby gifts, treasures for the future and books, picture frames and any number of accessories that babies need. Baby rooms also need good lighting, as well as a toy box, crib, dresser and changing table. In Bowie's room, the furniture is white.
Bowie is my little angel, and no granddad could love his first grandson more than I. Watching a baby grow up in a year is so exciting — seeing the first crawl and the first step, and hearing the first sounds — the ga-ga's — before the first words.
Decorating rooms for children is always fun, especially when you choose joyful colors from the very beginning. Those choices, I hope, will lead to a lifetime love of color and, with it, beauty.
Leave a Reply