Even Umbrellas Make a Design Statement in Palm Beach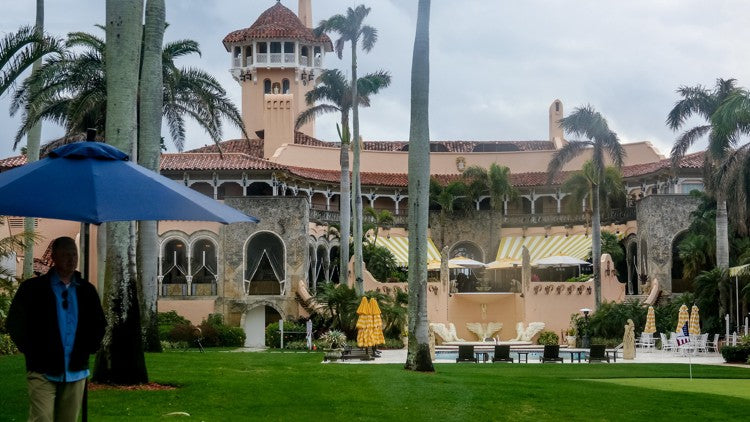 By Carleton Varney- Special to the Palm Beach Daily News
Although its been a dryer-than-average spring so far in Palm Beach, we have seen a few April showers — and, yes, they do bring the flowers that bloom in May. That's why April is what I consider the official umbrella month.
Spring often brings with it a renewed focus on our gardens, pool terraces and al fresco dining tables, which often are equipped with umbrellas. In a residential setting, I'm frequently dismayed when I see umbrellas with fabrics featuring hues that my mentor, the late Dorothy Draper, would have called "gravy" colors — and by that I mean dull browns and grays. A colorful umbrella will give your pool terrace or breakfast terrace a lot more sparkle.
When shopping for an outdoor umbrella, you'll find cabana stripes a popular choice. Stripes of deep jungle green and white remind folks of Ascot in England, where the queen is among those who enjoy the races, and maybe a Pimms, which is such a refreshing British drink. Red-and-white striped umbrellas always attract attention, and umbrellas with a red-checker pattern can be equally eye-catching, especially useful to restaurateurs who hope to attract the attention of passersby at their sidewalk dining areas.
Some time ago, my office team and I were decorators for the late Laurance Rockefeller's RockResorts hotel chain, with properties that included Caneel Bay, Little Dix Bay and Jackson Lake Lodge & Spa in Grand Teton National Park. Reflecting Mr. Rockefeller's wishes, our designers avoided any colors that would clash with the natural landscape. Beach chairs and umbrellas on the sand were to be sand colored to blend into the sandy shores of the Caribbean. For umbrellas on the terraces, we chose forest green to complement and blend in with the tall pine trees. As a preservationist, I can fully understand Mr. Rockefeller's ideas.
Such restrictions on color choices are not usually a consideration in home decorating, because most houses don't have a sandy beach or a seagrape-covered dune as the front garden. (And if they do, aren't the owners fortunate.) I love bright-yellow umbrellas everywhere, on porches as well as terraces. A yellow umbrella is like the sunshine during the day, and it also looks great under the moonlight.
When I'm visiting friends in the Palm Beach area, I often notice the umbrella colors on their patios. By my count, I can say that solid royal sailor-blue fabric — or a pattern of royal sailor blue and white stripes — seems to be the No. 1 choice this year.
Umbrellas also can complement the colors of the flowers in your garden. If your landscape is filled with bougainvillea, perhaps you will select the same color to complement the garden climbers.
If you're looking to make a decorative statement on your patio, don't forget the umbrella. Check out the many home catalogs for even more ideas that will provide both shade and style.
Leave a Reply