Don't Let Design Rest on Throw Pillows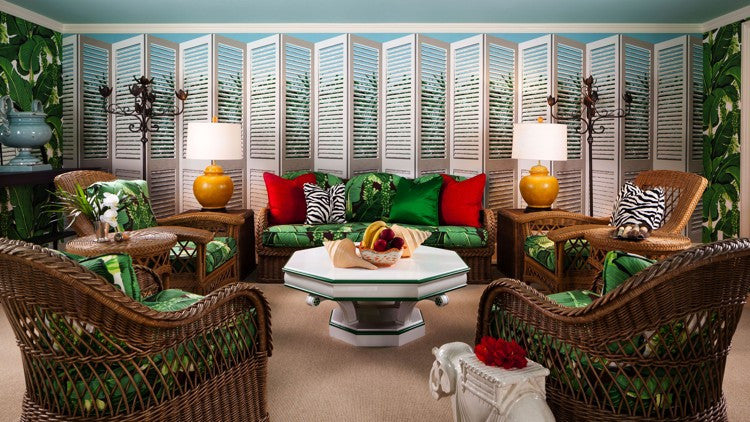 By Carleton Varney- Special to the Palm Beach Daily News
There's plenty of pillow talk these days, and by that I'm not referring to the famous movie starring Doris Day and Rock Hudson so often shown these days on TCM. I'm instead referring to the number of decorating shows, department store ads, television shopping channel programs and mail-order catalogs that provide a wide variety of different throw pillows.
So many sizes and designs are available to the decorating homemaker, at prices ranging from the low end to the high, high, high.
You'll find pillows with fringes, borders, appliques and trims such as grosgrain ribbon. Patterns run the gamut, from stripes to flowers, from trellises to birds to animal prints. You'll encounter pillows of glazed chintz, of silk, of needlepoint and of canvas, the latter suitable for indoor and outdoor use. You can find throw cushions of the softest materials, either faux and natural, and others studded with brass or silver accents.
In this world of bling, I've seen lately many throw cushions trimmed with glittery beads, some even with sequins and studded faux jewels. I'm told that once upon a time, one lady of royalty bejeweled her cushions with real gems in order to transport them out of a country under siege. So bejewel your throw pillows if you wish, and perhaps toss that special cushion on a bench in your powder room or a chaise lounge in your master bedroom.
When accenting with pillows, try mixing a striped version with a floral print in complementary colors. Perhaps consider using the stripe for one side of the cushion cover and the floral for the other. Make certain the cushions are welted, perhaps in a contrasting color. For example, if you live on a lake or ocean and are fond of sea-going colors, perhaps you would like yellow-and-white striped cushions edged in sailor blue.
The next time you're in your favorite department or specialty home-furnishing store, you'll probably find a section dedicated strictly to throw cushions. Accenting your rooms with colorful pillows can help the overall look, but don't think that those cushions will do the whole job — they won't! Plan your decorating scheme in its entirety when you begin a project. The pillow accents can be a part of the plan, perhaps fashioned of the same fabric as your window drapery or club chairs. The pillows are just one part of a room's story.
Yes, decorating with throw pillows is a big deal, and I am an advocate of it, but I always warn of overkill. It's easy to overwhelm your sofa, club chairs, or bed. Leave room for people, please!
Leave a Reply