Bedroom Eyes: Many Want to See Where Rich and Famous Sleep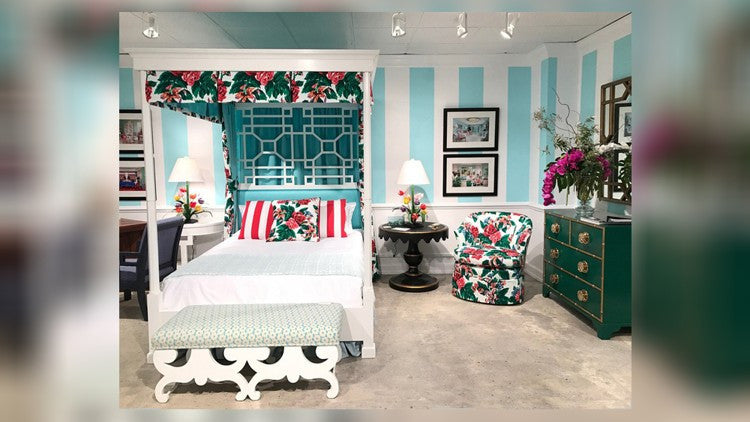 By Carleton Varney- Special to the Palm Beach Daily News
Can we see the bedroom?
The private place of a public face is often of the main attractions on a celebrity house tour, even if the celebrity has long since departed the world: Who wouldn't want to visit Elvis Presley's bedroom? What was the style of the boudoir of Marie Antoinette?
Even when there's no way to actually visit, the questions still resound: Wouldn't it be fun to tour the palace bedroom of Imelda Marcos and see her shoe room? Was Jean Harlow's bedroom really all white?
And what about all those royal bedrooms and presidential bedrooms in the better hotels all over the globe? Just how glamorous are they? Let's see if we can find out, say the more curious of guests at these five-star resorts.
Whether occupied by a king, a queen, a movie star or even a politician, bedrooms pique our interest. And the curiosity isn't limited to those with an eye for design. There's also an odd invasion-of-privacy component of the desire to see where a celebrity sleeps.
In such a home, the private place – namely, the bedroom — is decorated generally to suit the special personality of the occupant. When I was decorating the bedroom of National Football League quarterback Joe Namath some years back, I encountered the curious, who asked: Does Joe truly have a bedroom with a mirrored ceiling and a fur throw spread? The answer was no mirrored ceiling, but perhaps there was a faux-fur spread.
The world of bedroom decorating is wide ranging, with styles ranging from Asian, French and English to stark contemporary and elaborately traditional.
And there are brass beds, canopy beds and lace-topped beds. Some headboards I've seen have been crafted from antique doors. Others are upholstered with tufts and buttons. Just as there is a book or two on window valance styles, there are books on headboard styles, all providing ideas as to which way to go when decorating the private of private rooms in your own home.
Our design office recently recreated the bed of my mentor, the late decorator Dorothy Draper, from the time she lived at the Carlyle Hotel in New York. Manufactured from photographs of the original, the bed is of a wood-framed chinoiserie design, painted white and topped with a soft canopy and side curtains. The canopy and curtains feature a signature Dorothy Draper fabric of bright red roses and blue forget-me-nots entwined with pink and white lilacs — a chic floral chintz. The lining of the canopy ceiling and side curtains is an aquamarine blue satin.
At last spring's High Point Market — the major to-the-trade home-furnishings exhibition in High Point, N.C. — the Dorothy Draper bed was a popular attraction at the Kindel Furniture Co. showroom, as any bed of a famed designer would be. I know I would be a curious attendee of an event that featured a bed in which Frank Lloyd Wright had slept, just as I would also enjoy visiting a room that housed the bed of Coco Chanel or Marilyn Monroe.
Fortunately in today's world there, there are many private castles and historic houses open for tours, giving us all a peek at who slept in there and in what style of design they slumbered.
Leave a Reply