Bless a Home With Irish Ribbons and Trophies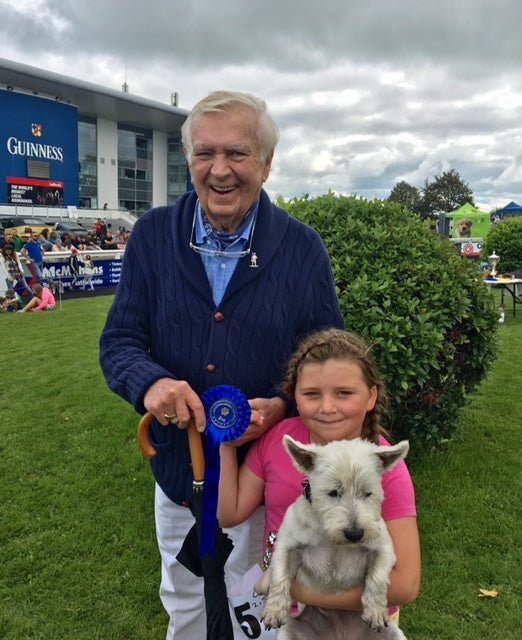 By Carleton Varney- Special to the Palm Beach Daily News
Greetings from Ireland, where I'm enjoying the late-summer green of the hills and the excitement of the ever-popular racing season.
I love the Irish countryside and its way of life, from an evening walk on a quiet lane to a serving of freshly made marmalade at breakfast. I never read the newspapers or browse the web when I'm here. And the television never gets turned on - not that I'm missing much, for we only have two channels available to us.
These days, I've been spending some time among the horses and dogs on Sundays at Limerick Racecourse in Patrickswell, where the best of the best are awarded red ribbons for placing first, while second-place finishers take home blue and third, yellow. It's the Irish way.
Last Sunday was the annual Limerick Show at the course, a family-oriented festival with all sorts of competitions.
Young Jessica McAuliffe entered Happy, my purebred Irish West Highland terrier, into three of the dog show events - and, happily enough, we came home with three blue ribbons.
I enjoyed walking the grounds before the horse and dog events began. One of the tents displayed the award ribbons along with the silver cups and trophies that would be presented to those honored as best in show.
Those trophies, I'm sure, will be proudly displayed on mantles and library shelves, and the ribbons will be tacked to walls in children's rooms or on to corkboard, perhaps above leather-tufted sofas.
I have seen rooms where ribbons are hung from mantles, displayed on bulletin boards, pinned to lampshades, strung from chains, and even used as a wallpaper border, of sorts, around rooms. There are so many new ways to make show ribbons part of your life. I once even designed a fabric using show ribbons as a theme for upholstery we used on library club chairs. It was a design winner, if I do say so.
But what do we do with those silver cups and trophies? I see so many beautiful silver trophies these days at estate auctions. I have purchased a few to use as vases, but as I look around, I find the traditional silver cups are being replaced by glass and crystal awards. Crystal vases seem to be more in style these days.
I'm sure silver cups will always find a place on award podiums, but I do love to see the shimmer of a lovely Waterford crystal bowl- perfect for a champagne punch- placed gently into the hands of a winner.
So from Ireland, here's a toast to racing, part of the culture that I love. I hope you visit, and when you do, I'm certain this lovely land will offer you cead mile failte - a hundred thousand welcomes.
Leave a Reply