Art and Decor: Lake Worth Show and Businesses Worth a Trip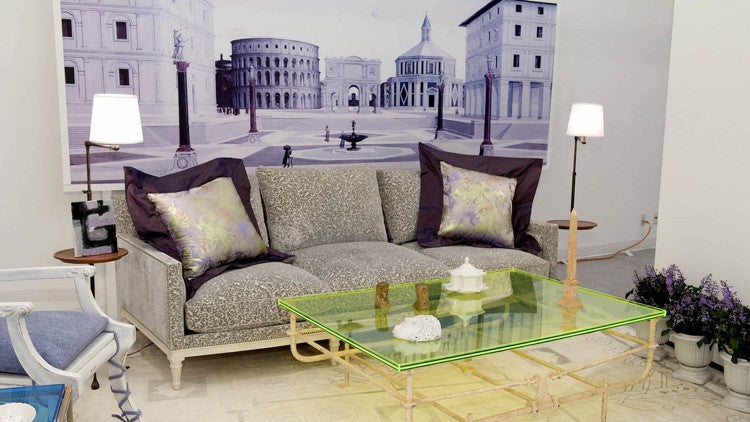 By Carleton Varney- Special to the Palm Beach Daily News
What is going on down the road at our next-door neighbor's? Now, I'm not talking about the house over the hedge but our neighboring town, lovely Lake Worth.
If you're headed to the South End in the next couple of weeks, you should head just across the Lake Worth Bridge to visit the Cultural Council of Palm Beach County.
Right in the heart of town at 601 Lake Ave., the council's Robert M. Montgomery Jr. Building is hosting an exhibit called "Art and Décor," which runs through May 12. While I did not catch the opening of the show, I did catch the middle, and I can attest that the vignettes — created by eight interior designers paired with eight artists — is as nice a treat as a visit to a showhouse.
Curator Gil Walsh, who will soon open her West Palm Beach interior design studio on South Dixie Highway at the corner of Bunker Road, put together the pairings: Stephen Mooney Interiors and Susan Romaine; Dalton Designs Inc. and Carin Wagner; Allan Reyes Interior Design and Dana Donaty; Patrick Killian Inc. and former Shiny Sheet photographer Jacek Gancarz; Jennifer Garrigues Inc. and Luis Montoya and Leslie Ortiz; Mona de Sayve Interiors and Karen H. Salup; JMA Interior Design and Skip Measelle; and lastly, Erin A. Cantu and Alexander Krivosheiw.
Each of the vignettes is so different from the next. I loved Elizabeth Dalton's salute to the tropics, with raffia chairs fitted with green-and-white palm frond cushions. Jennifer Garrigues always has a mystical look to her rooms, and her vignette doesn't disappoint, with faux-zebra-skin rugs, purple snakeskin-fabric cushions, super cast-bronze pieces and cantaloupe and honeydew wall art. Wow!
Allan Reyes presented Pantone's color of the year handsomely. His ultraviolet chairs featuring laced-up fabric legs, which were original and a reminder of the Greek Sardis furniture. Patrick Killian presents images of Greenland in his corner, where icebergs are the focus. Stephen Mooney has created a handsome and very livable library/sitting room worthy of any setting.
There is creativity in all the design settings, and I highly recommend visiting this Art Deco building to see this smashing show.
While you're in Lake Worth, stop by ZaSu, which is named for ZaSu Pitts by the young charming woman who owns the shop, Larissa Fitzgerald. ZaSu was her grandmother's favorite movie star, way back when there were real movie stars. ZaSu, 617 Lake Ave., sells women's fashions in bright colors along with a mix of trendy jewelry and fragrances, all presented in an environment where creativity takes a starring role. And ZaSu knows how to picture frame its shop windows.
I like to visit Lake Worth to dine — one of my favorites is Rustico Italiano, 701 Lucerne Ave. And I always stop by city Vice Mayor Andy Amaroso's corner shop, Studio 205, at 600 Lake Ave.
The shop is filled with just about everything from wraparound beachwear, to perfume, to costume jewelry. It is the place I go to buy my newspapers — local publications as well as international ones — from the racks on the sidewalk. Andy is a special host all his own. He knows everything about everything and everybody in this little town to the south, which is home to pretty painted cottages, the historic casino swimming pool and so many charming boutiques.
Leave a Reply