Don't Forget Details That Complete a Home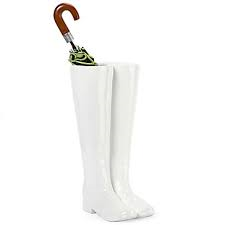 By Carleton Varney- Special to the Palm Beach Daily News
There are many things a well-equipped home needs - and one of those things is an umbrella stand or two. Trust me, decorative options seem endless for these handy items, from cowboy-boot-shaped stands made of metal, to brass stands that look like upside down umbrellas.
There are porcelain stands, and styles ranging from Asian to English to French. And, of course, there are wooden umbrella stands that include upright trees on which to hang a jacket and pop a cap or hat or two.
A trip down Antique Row on South Dixie Highway across the bridge will offer stores where you might find a favorite or two. Stop into Blue Moon, the Brass Scale or the Elephant's Foot and browse.
As you consider the possibilities, how fun it is to look at umbrella stands in restaurants for research. Pop into one of my favorite eateries, Belle & Maxwell's at 3700 S. Dixie Highway, and see how the owner Michelle Taylor treats customers' umbrellas.
Her guests leave them at the door, And in case the sun pops out while you are enjoying a crab salad or a cup of gazpacho and you forget to retrieve it on your exit? Well, surely she will care for your umbrella and you'll find it waiting for you when you return.
Along with umbrella stands, another must-have category is a wastebasket for each of the rooms of the house. Oh, how many styles and designs we can find in wastebaskets. And I'm not talking here about the utilitarian ones you might find in a kitchen. I'm talking about designer wastebaskets for the family room, the master bedroom, the powder room, the guest room, the library and the terrace room.
There are baskets with liners for bathrooms - wicker seems to work in so many room schemes - and library baskets of leather. I've even seen some leather designs featuring hand-tooled family crests. And I've seen woven-straw versions that come complete with lids.
I'm always fascinated on my visits to Pioneer Linens, 210 Clematis St. in West Palm Beach, to see the array of bath and bedroom wastebaskets (some in faux malachite, some in acrylic) that are blue or pink or clear. Some are mirrored in an antique style, some are made of polka-dotted tin and some have flowered designs.
Meanwhile, at Leta Austin Foster Boutique, 64 Via Mizner, you can custom-order wood and metal wastebaskets in a wide range of painted and papered finishes. The possibilities are endless.
I certainly appreciate a well-designed wastebasket or umbrella stand, but my favorite item for detailed home decorating must be the clock. Again, what a variety exists - there's a clock for every occasion. Look for those with mother-of-pearl faces for the mantel, small-scaled versions for the night table and whimsical designs to hang on a kitchen wall. And don't forget the powder room. And, of course, there are still cuckoo clocks. For the latest tabletop clocks - and other items to refresh a room - visit the Mary Mahoney Store at 336 Worth Avenue and see what stylish pieces she and her staff have to offer. Mary's selection comprises far more than china and glassware. She might have just the detail you need to complete your décor with style.
Leave a Reply