All Brand Vacuums in Palm Beach has latest for spring cleaning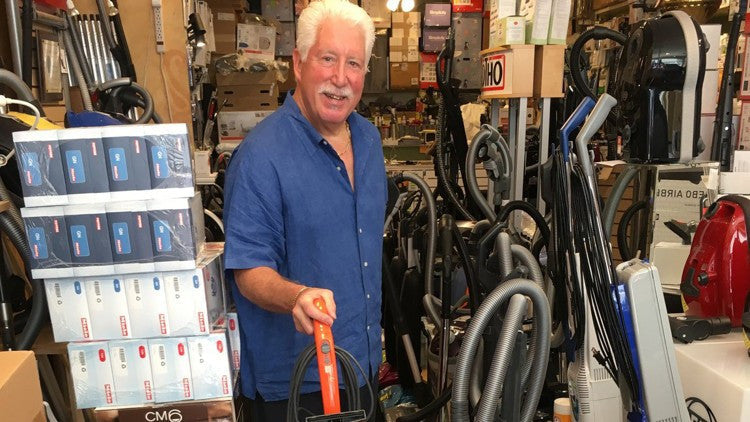 By Carleton Varney - Special to the Palm Beach Daily News
What's one of the secrets to having a beautiful home?
Having a clean one.
And, happily for Palm Beachers, there's an expert on the subject in the block of stores just west of Town Hall.
If you have never heard of All Brand Vacuums, you probably haven't strolled the sidewalk between The Church Mouse and C. Orrico. Tucked among the trendy and bejeweled boutiques, this tiny shop at 350 S. County Road, No. 104, is filled with all the good things that keep your home bright and sparkling.
Hooray for those who care about home maintenance — and for those who want the newest and best in vacuums, ironing boards, brooms, mops, rug shampoos, furniture polish and even jewelry cleaner.
James Sim has been in the home-cleaning business for 33 years, seven of which he has spent in Palm Beach. Visit and you'll find top-of-the-line Electrolux, Miele, Sebo, Oreck, Lindhaus and Simplicity products — and in all the new decorator colors.
Yes, we all know that pots and pans have traveled the decorator's colorful path, and so have vacuums and other devices, in bright blue, red and even canary yellow. Who said only automobiles get new looks?
There also are shelves filled with products to clean tiles, floors and bathtubs. You'll also find products to deodorize carpets and fabrics — so helpful if you have a pet or a smoker at home. Or how about a pole-mounted duster made of lamb's wool?
The shop also repairs and refurbishes a variety of floor-cleaning equipment, including vacuums, shampooers, floor polishers and steam cleaners.
Jim is a jolly Santa Claus-type of gentleman, and he is most proud that his shop has developed a loyal following. He recalls how the late sports broadcaster Curt Gowdy often stopped by the shop, not only to buy products, but to chat about the Boston Red Sox and all of those teams and stars, past to present. Remember, there was only one Joe Cronin, a seven-time All Star, whose daughter, Maureen Hayward, is often seen in Palm Beach.
You can always get a good story from Jim while browsing. And when you go, don't forget to look in the front window to see the newest and most beautiful ironing board — Swiss made. Now, regular readers might recall that I love to iron. I find it relaxing, and I certainly wouldn't mind working out a little stress with that beauty in the window.
But maybe that's just me?
Leave a Reply