Women Who Bring Color and Style to the Palm Beaches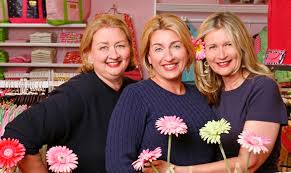 By Carleton Varney- Special to the Palm Beach Daily News
Among the things I love most about Palm Beach and vicinity is getting to patronize the businesses of talented people who make life a bit more interesting and stylish for the rest of us. Here are women who fit that description perfectly.
* Alice Bear Ludwig is an artist and stencil expert whose talents are wide and varied. She helped create the signature look of the Sloan's Ice Cream Parlor chain, which has locations on Clematis Street and in CityPlace in downtown West Palm Beach. There, you'll see her whimsical angels, ice cream cones, fantasy pink ribbons and clouds. I have frequently enjoyed working with her in my decorating projects, whether she was painting maps on the ceiling of Sushi Grand at Grand Hotel on Mackinac Island in Michigan or creating murals of whimsical fairy tales at the Greenbrier Resort in White Sulphur Springs, W. Va.
* When it comes to having a magical eye for how to make the most of antiques and vintage accessories, few can keep up with Judy Barron. The Brass Scale, her shop on South Dixie Highway's Antique Row, always has eye-catching windows — and the style continues inside. Her store really is nothing short of a wonderland. You might see dancing dolls or handsome clocks or a mix of pillows in all kinds of fabrics, from zebra prints to rose-beaded Victorian patterns. With her discerning eye for design and vivid imagination, Judy fearlessly mixes colors and periods, from the modern to the antique.
* Oh, how I love to visit C. Orrico, the domain of the Orrico sisters — Casey, Kathie and Colleen. They are truly Palm Beach retail royalty, as familiar with the Lilly Pulitzer look as anyone in town. After all, C. Orrico, 336 S. County Road, has been a principal source of Pulitzer fashions for decades.
The sisters and their late mother were close friends of the iconic designer. And even though a new Lilly boutique has opened on Worth Avenue — as part of the corporate entity that acquired the brand several years ago — I've no doubt that Palm Beachers and visitors to the island will continue to patronize C. Orrico for Lilly Pulitzer dresses and accessory items.
The shop has a bright, clean look, with white walls that also showcase fashion collections of other designers who love colors and patterns with Palm Beach flair, along with lovely jewelry from designers such as local Sasha Lickle.
* At Pioneer Linens at 210 Clematis St. in downtown West Palm Beach, Penny Murphy heads her more-than-a-century-old family business and is an undisputed expert in fine bedding. She and her staff can outfit any home, apartment or yacht with linens for every bed, bath and table. A visit to Pioneer Linens also offers a fine lesson in color coordination, with row after row of bath towels, from white to blue to magenta to red-hot red.
Murphy has been such a supporter of the design and decorating industry in the Palm Beaches — and her charitable support is remarkable. Her store was a stalwart of the old American Red Cross Designers' Show House and is today involved with the Kips Bay Decorator Show House Palm Beach. Murphy understands the power of tradition while keeping things fresher than fresh. And when I visit the store, I never cease to smile at the crowning touch — those pink chandeliers that have been Pioneer Linens' signature for decades.
* Aidymari Toledo of Style by Mary in downtown West Palm Beach is a hairstylist and colorist who certainly understands the impact of color — and not just when she's working on the hair of her clients. She always does her very best for me at her salon in the Phenix Salon Suites building, 101 N. Clematis St., around the corner from the popular Pistache French Bistro. Her salon is an oasis of color itself, with lavender walls, white accents, purple towels and a wallpaper border of lilacs and roses — stylish, indeed!
Leave a Reply