Vintage signs don't go out of style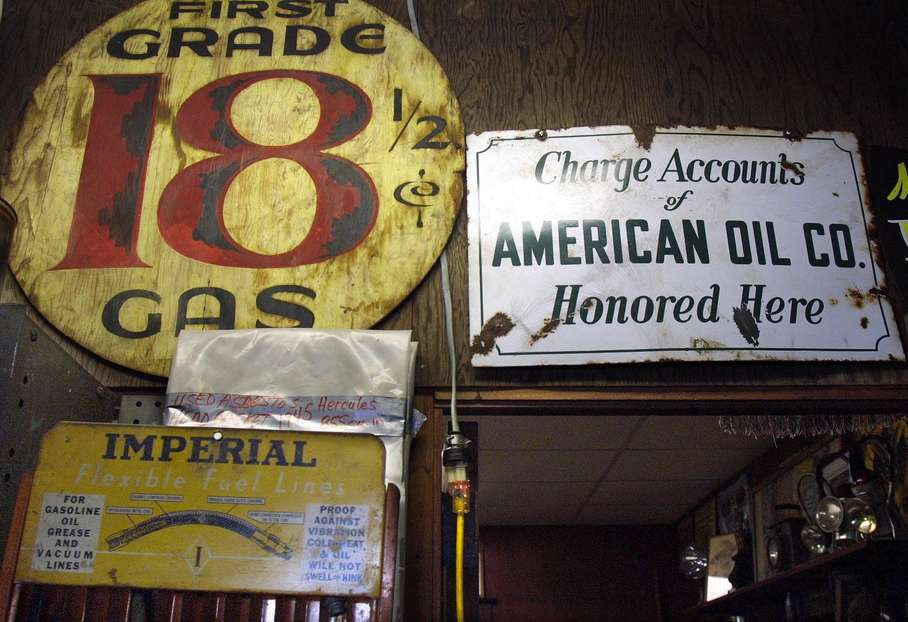 By Carleton Varney
Special to the Daily News
I love a good road trip.
On a recent trek to Millbrook, N.Y., I encountered on the highway something that's truly a sign of the times: Everyone knows what a rest stop is, but now we have the text stop. That's a safe spot where drivers can pull over, park and text to their hearts' content. So folks, no more texting while driving.
Be that as it may, you may also notice plenty of other signs while driving. Seeing gas station signs always reminds me how today's collectors often covet the signs of yesterday. Tin Mobile Oil gas-station graphics hang over the sofas in many contemporary-style homes. At auction houses, vintage signs with the Guinness stout toucan emblem can go for thousands. Oh, how I wish I had stockpiled Squirt beverage signs and old coffee signs, as well as the ones that promoted Esso Motor Oil and Coca-Cola — and Pepsi, too.
Why do you think old signs — rusted and bent as they might be – remain hot collectibles? My take is that in today's whirl-a-minute world, most everyone enjoys to having a touch of the past around them, reminding us that there was once a calmer life.
Almost anything vintage can be a collectible these days — even the folding doors from a wood-framed telephone booth, the type found in a hotel or train station, long before the days when a cell phone was in every purse or pocket. When I visited a friend in Palenville in the Catskills, I saw that she had recently installed a folding door phone booth in her entry way — what a great conversation piece.
When I'm in Palm Beach, I always stop by the Sunoco gas station on North County Road across from the police station, where a nice attendant fills up the tank and where the windshields are cleaned — a great touch of yesterday that still exists on the island.
It's a little bit harder in Palm Beach to enjoy the signs of fall, of course, thanks to our year-round balmy weather. That's one of the reasons I try to schedule an autumn road trip in the Northeast, before I head south. I know many Palm Beachers enjoy doing that, as well, taking in the fall foliage, searching for pumpkins and potted chrysanthemums at roadside stands, and maybe stopping for apples at a pick-your-own orchard.
If such a country-roading journey is on your agenda, perhaps you'll pass an antique shop that carries old signs, and you'll pick up one such as the sign that features the angel lady from the White Rock soda bottle. The sign might be your newest wall decoration.
But be warned: If you find an old Pegasus sign promoting Mobil products, the price tag may floor you so much so that you'll get back into your car, push down the gas pedal and head back down the highway. You probably don't need the sign anyway.
Carleton Varney

-

Dec 02, 2016
Leave a Reply
ENTER THE WORLD OF DOROTHY DRAPER HOME
Sign up to hear about gift ideas, special discounts and new arrivals.