Jack-o'-lanterns star in artful Halloween decor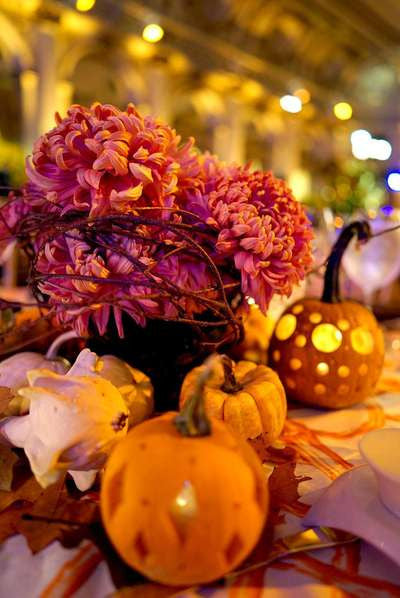 By Carleton Varney
Special to the Daily News
With Halloween flying in on its broomstick on Monday, is it any wonder I'm in the mood for pumpkins and jack-o'-lanterns?
I've been so intrigued over the past decade with the amazing art that appears each October in the form of carved pumpkins. In the old days, carving a simple face with triangle eyes and nose, plus a jagged-tooth grin, was about as exciting as a jack-o'-lantern got. But these days, you'll find that stores and online retailers are stocked with specialty carving tools and books of patterns that can help you transform a pumpkin into something magical, a decoration worthy of Cinderella's fairy godmother.
Of course, there are also plenty of folks whose artistic imaginations make patterns unnecessary. They create jack-o'-lanterns that would make any sculpting teacher proud, from devilish faces and ghoulish monsters to spooky scenes of bats on the wing and cats gazing at the moon.
A carved pumpkin needn't be elaborate, however, to make a decorating statement. As I mentioned in this space earlier this month, plenty of pumpkins were on the supply list when my firm was asked to provide the party décor for a ballroom at The Plaza in New York City. The event last week was sponsored by Jupiter Medical Center in support of its Joe Namath Neurological Center.
For the decorations, we used plenty of items culled from nature — chrysanthemums, sunflowers, autumn leaves and, of course, pumpkins and gourds. Floral expert Bridget Vizoso and her team created arrangements for the table centerpieces and also provided masses of blossoms that we displayed as hedges in the theater-like "boxes" overlooking the ballroom.
Among my favorite items were the carved-out pumpkins of all sizes filled with votive candles that we scattered on the tables. These jack-o'-lanterns didn't have faces but were pierced with round holes, diamonds and other geometric shapes that allowed the golden light to shine through. The effect seemed traditional and contemporary, perfect for today.
I hope you'll have a carved pumpkin — or several — amid your Halloween décor. Remember: You don't necessarily have to go spooky. Decorate your dining table, sideboard or coffee table with shimmering gold or brass items, bright pomegranates, variegated gourds and containers of big chrysanthemums. Then add a few carved-and-lighted pumpkins to the mix. One more note: I always like pumpkins displayed in sets of threes.
Then, when Halloween is over, simply remove the jack-o'-lanterns, and you'll be all set, decorating-wise, for the weeks leading up to Thanksgiving.
I hope you have a happy Halloween, no matter how you choose to decorate.
Carleton Varney

-

Dec 02, 2016
Leave a Reply
ENTER THE WORLD OF DOROTHY DRAPER HOME
Sign up to hear about gift ideas, special discounts and new arrivals.