Trip reveals Ireland's County Donegal still vibrant with color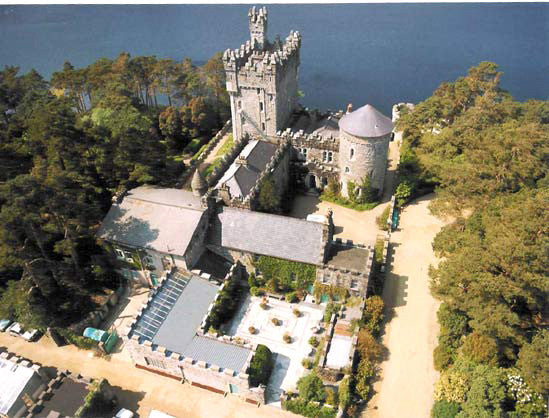 By CARLETON VARNEY
For several years, I had been dreaming about returning to County Donegal in Ireland, a green, heavenly place that I visited years ago in the mid-1970s. I wanted to see if my memories of the mountains, sea and landscapes were accurate. So off to Donegal my associate, Brinsley Matthews, and I went to rediscover the Land of a Thousand Welcomes. And I am delighted to report that, unlike much of the Irish countryside, Donegal remains still untouched by the brash, commercial world where road signs that advertise everything from nail salons to video stores reign supreme.
If ever there were a picture-postcard area of Ireland, it surely is Donegal, at the island's northeastern tip. I asked the doorman at our hotel, Harvey's Point in Donegal, about why the landscape remains so untouched, and his reply was succinct.
"Tourists to Ireland never go further north than Galway," he told me.
Anyone taking the five-hour journey from Limerick to Donegal should visit Glenveagh Castle, once the residence of Philadelphia Museum of Art curator Henry McIlhenny, who left his castle and much of its interior furnishings to the Irish government. The castle, where McIlhennnny hosted Greta Garbo in 1974, sits on Lough Veagh. With a spectacular garden, it's a visual delight.
The castle is not of an overwhelming size, although your tour guide, if you take the short but interesting interior tour, will say that the "house" has 28 or so bedrooms. Most of these, however, would be considered staff housing, because there are only a handful of rooms on view for visitors to see, including the bedroom of the king of the castle himself, Henry McIlhenny, and that of the room once occupied by Miss Garbo.
As in many manor houses open to the public, the furnishings of the castle are in the English/Irish mahogany tradition. But the color schemes in the rooms are bright and happy. McIlhenny lived in Philadelphia on Rittenhouse Square, and his mansion there was elegant in red, red, red and filled with Regency furniture. Across the Atlantic at Glenveagh, you can see McIlhenny's favorite red used in all the connecting corridors and small foyers.
Red, being so vibrant, is warm and welcoming when used as a background for any style of design — French, Italian, Oriental, Swedish or simply American Country. And many are the rooms in the tropics, believe it or not, that I have seen painted or wallpapered in red.
Red adds drama to a setting. No surprise that most Broadway theaters have red carpeting and red stage curtains — and even the Queen of England understands the dramatic value of rolling out the red carpet!
So do not be afraid of red. In a red room, colorful fabrics with floral prints are always winners. Use red as the background color in a room that features a great flowery chintz at the windows and as slipcovers. That chintz might have a pattern of blue delphiniums, pink peonies, white cosmos and purple irises, all combined with green leaves on a white or cream background.
On your next trip to Ireland and your visit to Glenveagh, you'll notice all the colorful chintz fabrics McIlhenny enjoyed in his drawing room. They seem especially happy and cheery when the Irish day is overcast and rainy. But it's the rain that makes the grasses and hills of Ireland so magically green!
Carleton Varney

-

Nov 07, 2016
Leave a Reply
ENTER THE WORLD OF DOROTHY DRAPER HOME
Sign up to hear about gift ideas, special discounts and new arrivals.