Traveling in style on the Orient Express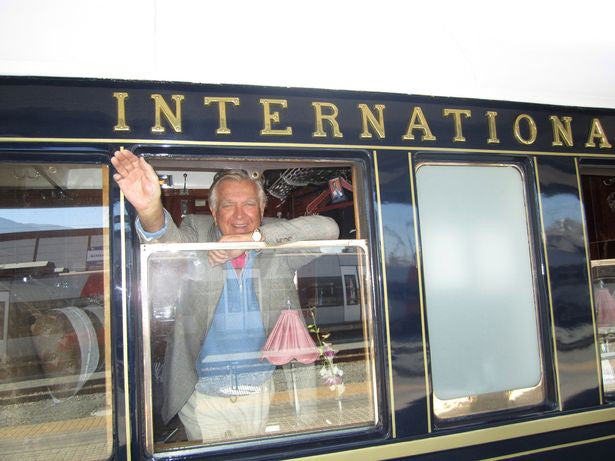 By Carleton Varney
Plane travel these days can be a less-than-pleasant experience. So if you want to get from London to Venice with a pass-through stop in Paris and a morning get-off-the-train-for-a-walk stop in Innsbruck, Austria, and if you have time on your side, consider a trip on the Orient Express, a journey I recently enjoyed on what I might term a working mission.
I, my associate Brinsley Matthews and my office team are designing the interiors of several train cars for one of our commercial clients, if you can imagine that. So I wanted to catch up on the luxury and style offered on this European return-to-yesterday train, which still enjoys a filled-to-capacity guest list.
Now, don't get me wrong: The fare — topping $3,000 — on the Venice Simplon Orient Express certainly exceeds the ticket price for the same London-to-Venice trip on, say, British Airways, but the train journey offers its own value — a most delightful atmosphere in the Old World style, as well as not to-be-beaten cuisine. Top French chefs have been creating the Orient Express menu for more than 13 years, and a team of waiters will go to every length to make your trip on the Express as delightful as it can possibly be.
If I were to travel the route again, I would board the Orient Express in France to avoid what I call the "closed-in, boxed-up" train trip — even though it's a short one — under the English Channel from London to France.
The bus that you board after traveling by rail to the Chunnel from London is put into a container of its own, and therein you travel aboard the high-speed train through the Chunnel to Calais, from which you are then bused to the Orient Express. The bus then returns by train to its London base through the Chunnel, carrying the Orient Express passengers who are making the journey back to London.
Once on board the Orient Express, you'll find three dining cars — the Cote d'Azur, Etoile du Nord and L'Oriental — but I'll give them other names, as each has a unique upholstery and wall décor. One car I'll call the Pale Blue and Sapphire Car. Another I'll call the Emerald Green Car, and in it, I loved the heavy emerald-green cut-velvet fabric on the dining chairs. And then there is the Rust Car, which I've so named because the seats are covered in a very strong tone that's a mix of rust, salmon and red. Decorative details include marquetry paneling and, in one car, the decoration is Art Deco in what I would call the Lalique style.
The Orient Express operates seasonally from March to November, and all dining and club-car carriages are equipped with antique brass-and-wood-bladed ceiling fans. Window shades and curtains are, as expected, fringed and tied back, and antimacassars are everywhere, protecting the back of the seats.
The club car, where passengers gather for cocktails and after-dinner drinks, is equipped with a small stand-up bar with attendants clad in starched white jackets, buttoned in brass and trimmed with golden-braided epaulets — oh, so reminiscent of a world that once was. The bar is also outfitted with a baby grand piano, which, I was told, had been dropped into place through the carriage's open roof.
Everything about the Orient Express is about a world gone by. It's a world worth preserving, a stylish means of travel, where one is cared for with fine manners and gracious smiles. Oh, what lessons today's airlines might learn from a trip on the Venice Simplon Orient Express!
Carleton Varney

-

Nov 07, 2016
Leave a Reply
ENTER THE WORLD OF DOROTHY DRAPER HOME
Sign up to hear about gift ideas, special discounts and new arrivals.