Start the New Year With Gold and Silver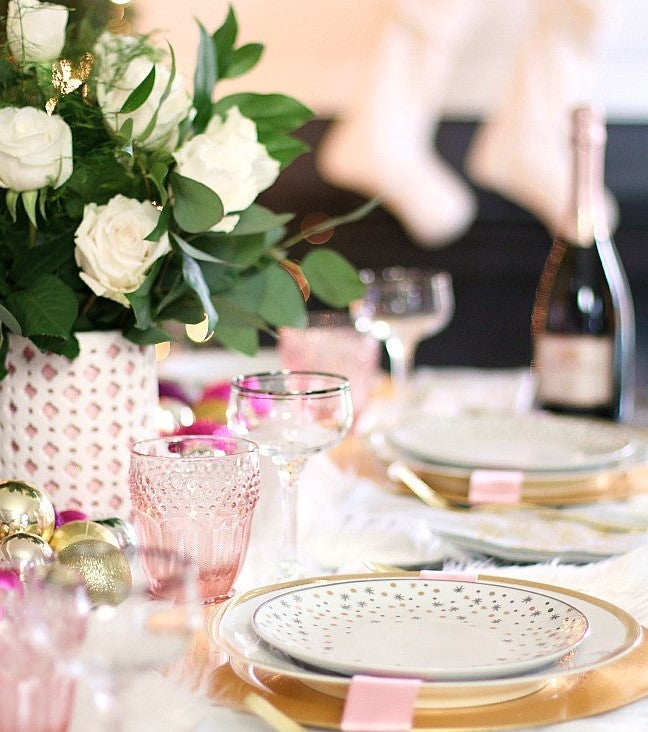 So here's a toast to welcome 2019, a New Year I'm calling the gold-and-white year, if only because that's the color combination I plan to use on my New Year's Eve table. With white and gold, and a few touches of silver, you can start your year with a very clean, happy and elegant look.
My dining room will have a live Christmas tree, decorated with gold and white twinkling lights and white ribbons — and tucked into the green branches will be artificial ornamental ginkgo-leaf sprigs, frosted in gold and sprinkled with silver sparkles. A combination of silver, gold and white baubles of different sizes plus crystal bells will complete the tree's décor, along with a golden angel on top and white lovebirds perched on branches.
For the dining table, which seats 16 comfortably, gold lame will be used as the table cover, on which I place silver demilune placemats. The table decorations will include gold-painted reindeer candelabra holding white tapered candles. I like white candles and other white accessories because white seems to me to align perfectly with the New Year. The holiday day seems to me very much like a christening event.
As I own a service of white china with gold trim on the rim, I shall use that along with crystal glasses trimmed in gold.
Decorating the table at New Year can be floral fun. My table also will have gold baskets filled with white roses, a flower I always find welcoming. But you might instead prefer white lilies as the flower of the day — or even stems of white carnations. I can certainly envision baskets or low vases filled with carnations entwined with baby's breath.
For those in Palm Beach, the white-and-gold scheme can be localized a bit. Why not use shells gilded in gold to hold place cards for each guest? At each setting, add a small gold-detailed glass cup filled with a small votive candle for extra sparkle.
However you begin your New Year, I wish you the happiest of the happy. I have been writing this column for some 40 years, and each year I try to offer some new ideas to lift the decorating spirit in your home and your life.
And so, as 2019 arrives, I'll begin thinking of ways to make our home a little more comfortable and a little more magical. What could be better than that?
Happy New Year!
Leave a Reply