So Much To Do In and Around Palm Beach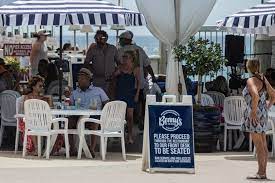 By Carleton Varney- Special to the Palm Beach Daily News
Palm Beach and its vicinity are filled with new places to discover and old favorites to enjoy. Here are some of mine.
• Trevini Ristorante has settled beautifully into its third location at 224 Sunset Ave. just east of the Publix and directly opposite the Via Flagler development. Everyone I know seems to rank Trevini at the top of the restaurant charts. The Italian fare is much in demand, so make a reservation.
Over the holidays, the restaurant had a wonderful poinsettia display outside, a classic approach to Christmas décor and a big wow. My neighbor, federal appeals judge Randolph Mason, finds the early-bird dining at the bar the best deal in Palm Beach.
• The holiday season may be over, but gift-shopping seems to be a year-round necessity, doesn't it? When you're looking for a special Palm Beach surprise for a birthday or other occasion, don't forget about the gift shop at the Flagler Museum, 1 Whitehall Drive.
Did you know you can enter the shop directly, without paying the museum's admission charge? Just inform the attendant at the gatehouse, who will direct you. I love the selection — books, fragrances, jewelry, toys and even women's bedroom wraps. There are so many goodies from which to choose among.
• I know lots of folks who live north of Sloans Curve who rarely venture southward. If that's you, here's a dining tip. You must take your guests for breakfast at Benny's on the Beach at 10 S. Ocean Blvd. Simply drive South Ocean Boulevard to the Lake Worth Beach Casino, a bit past the Par 3 golf course. There's always plenty of parking available at the beachfront park.
Sit on the pier, and watch the waves roll in. The breakfast, lunch and dinner menus are all special. For breakfast or brunch, try the Lots of Lobster Benedict; the shrimp and grits; the French toast; or the half grapefruit – it's caramelized! And check out the handsome outdoor-living seating areas on the pier, complete with standing lamps.
• Sometimes Palm Beachers forget the treasures we have just down the street — or just across the bridge. When was the last time you shopped Antique Row along South Dixie Highway in West Palm Beach?
Some of my favorites are Patricia's Gallery (3608 S. Dixie Highway) for pieces with classic elegance and high style; Judy Baron's Brass Scale Antiques (3721 S. Dixie Highway), which is always stocked with fun vintage items; and Sold on Dixie (407 Roseland Drive), which offers a terrific mix of mid-century collectibles and large furniture pieces.
Even if you're not venturing out much these days because of the coronavirus resurgence, I hope you'll make a mental note to visit these — and so many other — spots when you are once again out and about.
You'll find special destinations tucked in and around our special town. Take a look. Stop by a shop or make a reservation at a restaurant you've never tried or haven't visited in a while.
And enjoy the rest of the season! See you around town.
Leave a Reply