Celebrate the Rich Red of Garnet This Month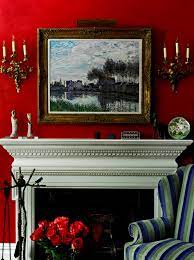 By Carleton Varney- Special to the Palm Beach Daily News
January is garnet month. I know that well, for January is my birth month and garnet is my birthstone.
Most of us think of garnets as having a deep red or grape-purple red color, although there are varieties that shimmer in greens and even orange. I am definitely on team red when it comes to garnets.
Decorating with the color is always a dramatic choice. Even in the colorful state of Florida, you don't find many homes with walls painted deep garnet red, although on occasion I've seen it used in cozy libraries. I've also seen it in home theaters, where I think it's a great choice, because the color is truly glamorous.
Transplanted Floridians from New England often bring with them love for the room colors they enjoyed during their time up north. I've sometimes seen rooms in New England decorated in a color scheme of cranberry garnet and oatmeal, with dashes of gold as accents. I think beautiful colors are never out of place and might be just the ticket for someone in South Florida who is a bit homesick for the old days.
I can envision garnet walls in a Florida sitting room, where they would provide a striking background for natural-rattan furniture upholstered in aquamarine or ocean-blue fabrics. On the sofa, I'd scatter pillows of lime green and white.
To dress the windows, I would choose tortoiseshell-style blinds, and on the floor, I would lay a raffia rug.
I'd also scour Antique Row's shops along South Dixie Highway in West Palm Beach or peruse the internet to find table lamps with garnet bases and crisp white shades.
Who knows? Garnet walls may be a perfect choice to add to your 2022 decorating schedule.
And here's a tip: When you're considering new paint for a room, I always recommend gathering several paint swatches of colors you like. Tape them to the walls and look at them during different times of the day as the natural light changes. That way, you won't be surprised once the paint job is finished.
And remember never to judge a color by the liquid you see in the paint can. The color might dry either lighter or darker, depending on the specific hue and type of paint.
This time of year, many of us are thinking about redecorating for a fresh look. Perhaps you'll consider using a touch of rich garnet to bring a little drama to your home.
Leave a Reply