Red and green rooms not just for Christmas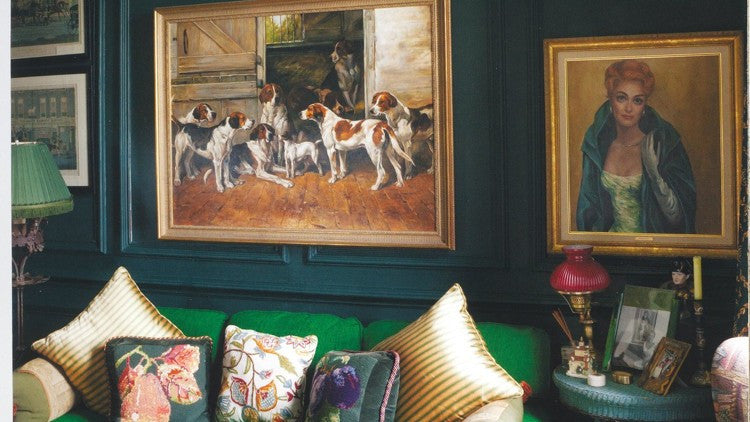 By Carleton Varney - Special to the Daily News
It is Christmastime across the world, and what a joyous time it is for those of us who celebrate the holiday. Wooden shoes will be filled with sweets in the Netherlands, while in Spain the Turrón squares will find their way into stockings. So many countries have different ways of celebrating, each with its own very colorful look.
In America, Christmas means red and green. So are rooms painted dark green with white trim and a red carpet on the floor too Christmasey for year-round use? I am sometimes called out to defend my choice of mixing reds and greens together in a room. I am happy to defend my color choices. I believe such a combination is right for daily living. Here in Palm Beach, where the banana trees grow and the palms wave, I suggest just such a room scheme.
For your tropical-look sitting room or garden room, paint all the walls rich banana-leaf green above a wainscot of bright white. If you are a true Floridian, you might want to apply green latticework to the white wainscot surfaces. Paint your trim and crown molding bright white in a semi-gloss enamel and your ceiling a flat, very soft sky blue.
Now comes the fun. Find a fabulous flowery chintz of big-and-bright red and pink roses on a white background. Use the chintz for your curtains, and line them with a green-and-white stripe fabric. Hang the drapery from wooden rings painted green on a wooden pole of the same color.
Next comes a big sofa of white wicker. Cover the seat and back cushions in the flowery "Christmas" chintz. Cover throw cushions in solid red and pink cotton and be certain to outline-quilt the fabric for durability. Occasional pull-up chairs at a white card or tea table can be covered in the green-and-white stripe you used to line the curtains.
For a comfy feel on the floor, try a rag rug woven of green and white cotton. Rag rugs can be made to order in different sizes and colors quite easily. You can email us if you cannot find a good source, and we shall try to assist.
End tables in your all-year Christmas room can be white with green trim, and for lamp bases, choose deep red ginger jars. For tableware, think green majolica plates with a coordinating tureen.
So there's a happy room that I know will make you smile. And the plus is that it would also be perfect at Christmastime in homes where the holiday is observed.
As the world celebrates with beloved treats and traditions, the magic is also here in Palm Beach. You can see it in children's eyes as they gaze upon the sparkling tree on Worth Avenue and as families on vacation play on the beach.
Whatever holiday you and your family celebrate, may it be filled with color and light!
Leave a Reply