Peonies Offer Super Colors For A Bedroom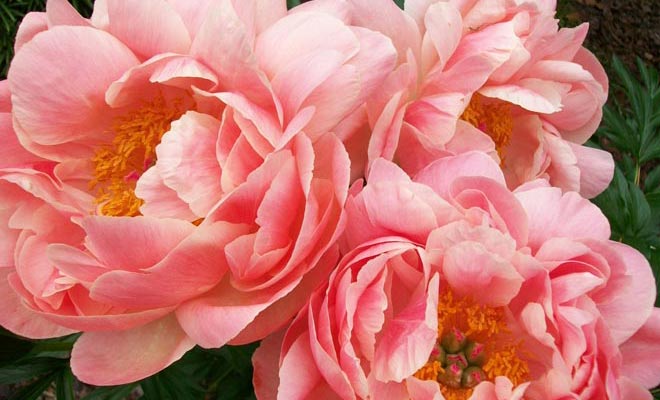 Summertime is peony time, when the season showcases the beauty and scent of this lovely flower.
I know many people who choose the peony as their favorite of favorites. Unfortunately, peonies aren't suited for growing in Palm Beach's subtropical climate but they're a star in northern gardens. Sometimes when the rain comes along, the long-stemmed peony, with its fluffy blossom, bows to the ground and the petals fall far too early. Ah, but the fragrance lingers on.
My sister, Vivian, who lives in Washington state, takes pride in her peony garden, where she grows and nurtures a number of peony varieties. She tells me that single, or anemone, flowering peonies with their smaller flowers are less prone to bowing and kissing the ground. But they still may need support to withstand storms. Peony rings are easily purchased from a garden center. Also, there are no guarantees that a hard rain won't shatter the flowers.
The peony is the traditional floral symbol of China, which has embraced it since the Sui Dynasty. It is said to symbolize romance, prosperity, good fortune, and happy marriages. So peonies are often abundant in bridal parties. Brides today might choose among coral, pink, deep rose or even white blossoms. There are even yellow-crown peonies.
If you have a northern garden, one purveyor should be on your list: White Flower Farm in Litchfield, Connecticut, is family owned and offers all the newest varieties.
When decorating a master bedroom and bath - as our office is doing for clients at the Palm Beach Baltimore - you might take inspiration from the peony, especially when selecting fabric for draperies or an upholstered headboard. In my experience, both genders find soft peony pinks and corals - as well as flower's deeper magenta tones - to be super colors for a happy and bright bedroom. you can find a range of peony colors in a mixed bouquet.
Begin by painting your bedroom walls a soft peony pink - perhaps in a two-tone stripe or a marbleized pattern - with white woodwork.
Choose a second shade of peony pink, a deeper tone, for the interiors of closets or the walls in an adjoining bathroom. A lighter peony tone can be used on the ceiling. For the carpeting, select a raspberry tone peony shade, for a jolt of color that is also practical.
If you have a decorator in your life, he or she can shop for peony fabrics from which you can choose.
If you're shopping yourself, there are plenty of fabric-by-the-yard retailers across the bridges from Palm Beach, where you'll likely find patterns with blooming peonies that will suit your style. Consider Mac Fabrics at 426 Clematis St., West Palm Beach. I often visit Boca Bargoons at 910 U.S. 1 in Lake Park for a look through the racks - and I always appreciate the very helpful staff there.
A trip to Boca Bargoons also means a stop for lunch nearby at the Carving Station, 720 U.S. 1, a popular and casual buffet-style restaurant. It isn't fancy, but it sure is fun - and perfect for summertime, I think.
Leave a Reply