Palm Beach Couple Embraces Colorful Design During Ireland Trip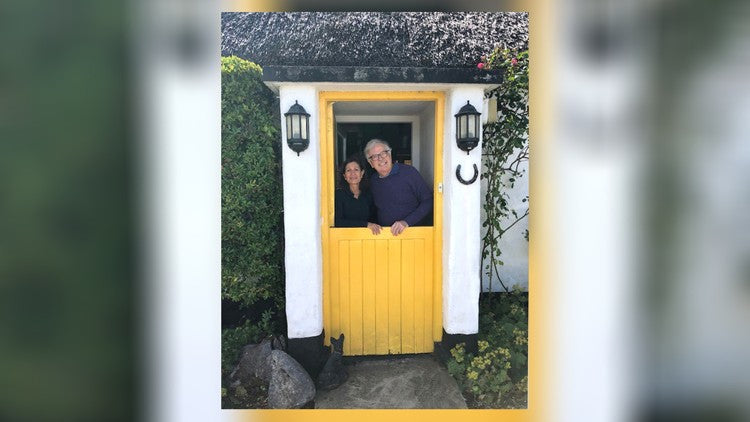 By Carleton Varney- Special to the Palm Beach Daily News
Front doors should be beautiful, providing a warm welcome to visitors. And the front doors of Dublin's Georgian mansions are indeed beautiful, along with the back doors and double doors of the cottages along the seashore at the Burren in County Clare.
I've recently been traveling the coastline of Eire with my Palm Beach friends, Dr. John Whelton and his wife, Mahnaz. Dr. John has been looking after so many of us for 40-odd years. His wife, meanwhile, has real estate expertise — she's affiliated with Sotheby's International Realty — and has been marketing Palm Beach villas, houses and condominiums for some 30 years.
The Wheltons have been celebrating 50 years of happiness in Ireland — and for good reason. Dr. John was born in Cork, and Mahnaz enjoys the beauty of his native land. During their visit, the Wheltons bused their three children and their spouses, along with their grandchildren, for a week of fun at places like Bunratty Castle and Lisdoonvarna in County Clare, the spot where once a year the village holds a matchmaking festival.
We took special note during the Wheltons' visit of the colorful doors of the village cottages. Sunflower yellow, daisy-like cosmos pink, tomato red, marine blue and lobster orange — to only name a few — were all in evidence. The doors add such charm and spirit to the towns from coast to coast.
If you come to Ireland this fall, you'll find the country bursting with new color, new adventures, new hotels and lots of the old castle homes brightened with magical Irish color. Yes, even Aran sweaters — called jumpers here — are being woven with fresh colors — cranberry red, olive green, aqua blue. So while the flaxen cream jumpers are still popular and big sellers, the color trend is definitely on view.
While the Wheltons were on the shores of Connemara, they visited the workrooms of Connemara Carpets to see the colors of the rainbow being woven into masterpieces for homes around the world.
If you read this column regularly, you know I love colors, inside and out. Once upon a time in Palm Beach I swathed the formerly white Brazilian Court hotel in yellow paint, and more recently, I took the exterior of The Colony from beige to rich salmon.
As far as I'm concerned, color and cheer go hand in hand.
Leave a Reply